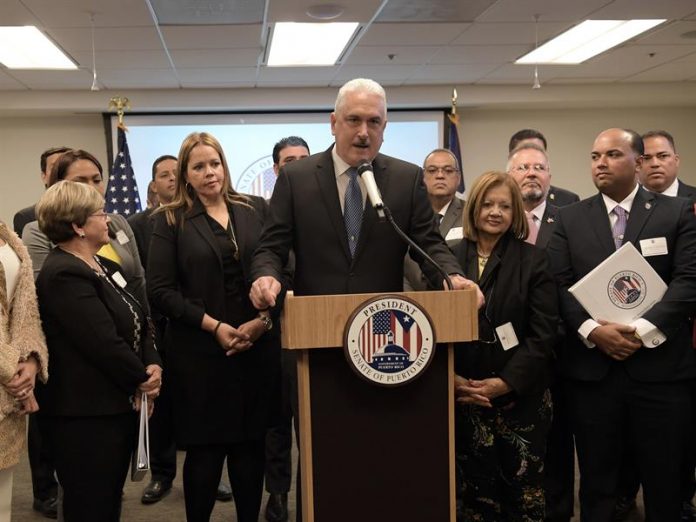 San Juan, .- The President of the Senate of Puerto Rico, Thomas Rivera, today made an appeal to the Federal Bureau of Investigation (FBI, in English), cite immediately and if any crime has been committed, act without delay in relation to the demonstrations from the morning until the coordinator of revitalization of the Board of Fiscal Supervision (JSF) for the island, Noel Zamot, on the alleged obstruction of economic development projects by government officials.
During his initial shift in the works of today's ordinary session, Rivera said he has heard FBI officials publicly request that anyone who knows of a corruption case, please call.
"There you have one, who is publicly denouncing it, please cite it, there is not a Juan Del Pueblo, there is no general call, there is an official of the JSF who has made some very serious allegations and deserves attention. citizen who is claiming to know information, therefore they must quote it as soon as possible, "Rivera insisted.
Among his statements Zamot details that after many meetings held with an investor, the agency that was inside the meetings, which he did not identify, "determined that he was not interested in the project but, two weeks later, announced an initiative equal to the proposed by the investor, this, among other allegations, as the proposals were leaked 'to other friends' ".
"There they have Zamot, look for him and tell him." Zamot said he was frustrated, he should be indignant, he should go to the authorities to make the complaint, "insisted the president of the Senate.
He also attacked the senators of the PDP delegation who have expressed themselves on the matter and have asked for an investigation and invited them to file an investigation resolution on this case.
"They suggest (PPD delegation) that they investigate, that they examine themselves, but they do not present a resolution, I have no problem bringing it (referring to Zamot) here in full commission," he said.
Rivera questioned why, if Zamot had knowledge about these actions before, he did not make the accusations.
"When Mr. Zamot heard about these events, this week, yesterday last week, if he had known them for a long time and kept silent, why, why was he a participant, did he have a business or pre-sale with those that he now says? who feels frustrated? We should not treat those expressions lightly. "(EFEUSA)