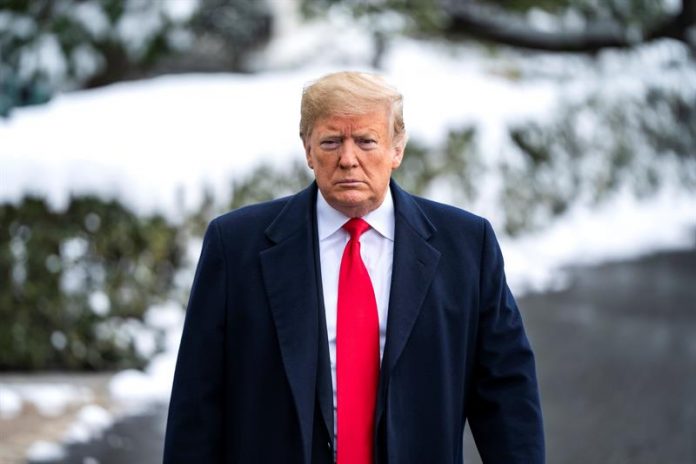 US President Donald Trump once again criticized the "Saturday Night Live" comedy show for mocking his most recent episode of his decision to declare a "national emergency."
"Nothing funny about the Saturday Night Live," Trump wrote in his Twitter account, in which he described NBC, which broadcasts the program, as a chain of "false news."
During Saturday's episode, "Saturday Night Live" parodied Friday's press conference in which the US ruler declared the national emergency.
The actor Alec Baldwin, characterized as Trump, referred to the "huge amount of drugs that flows into the country from the southern border" and justified why the wall is needed.
"Everyone can see why I have to pretend this national emergency," the actor said ironically and later mentioned that "taking military money" may have the wall.
In his tweet, Trump wondered "how the chains get away with this attack on the Republicans."
"Very unfair and should be examined, this is the real collusion," added the president, who last December said that "Saturday Night Live" should be brought to court for the issuance of a "sketch" that was a parody of the film "Qué bello es vivir" (1946) centered in this case on his person.
At that time, Trump, also on Twitter, considered a "real scandal" the "partial coverage, hour after hour, of networks like NBC and spin-off machines like Saturday Night Live."
"They are just an unfair coverage of the news and Democratic announcements, it should be tried in the courts, it can not be legal, they just defame and minimize! Confabulation?", The president said at the time.
Trump declared on Friday a "national emergency" to finance the construction of a border barrier on the border with Mexico, after two years of clashes with a Congress reluctant to help him fulfill his star electoral promise.
The emergency declaration allows US presidents temporary access to a special power to deal with a crisis.
"We are talking about an invasion of our country with drugs, with drug traffickers, with all kinds of criminals and gangs", which is a "national emergency", defended Trump.
The president intends to raise almost 8,000 million dollars to erect some 376 kilometers of a border barrier that would be formed by steel poles and would not be, therefore, a concrete wall, according to the White House. (EFEUSA) .-