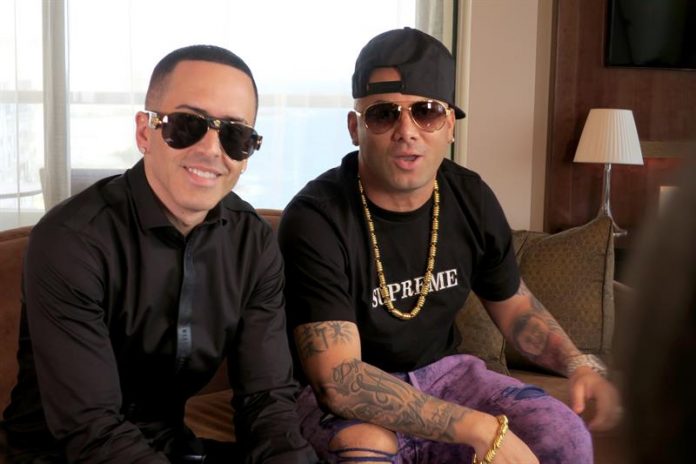 The Puerto Rican reggaeton duo of Wisin y Yandel and Dominican bachatero Romeo Santos today released the music video for "Aullando", a theme that is included in the most recent production of urban artists, "Los campeones del pueblo".
The video, according to the representatives of Santos in a press release on Thursday, was filmed at the San Juan Hotel in Puerto Rico under the direction of Jessy Terrero, who has been in charge of directing other music videos of Wisin and Yandel.
The story of the video is based on a seductive woman who does what she wants with men in her life, as detailed in the statement.
"Howling" is by the authorship of Romeo Santos, Wisin, Yandel, Good Descemer, Chris Jeday, Gaby Music and Ender Thomas, and produced by Wisin, Yandel, Chris Jeday and Gaby Music.
Romeo, on the other hand, has six nominations to the Billboard Latin Music Awards 2019.
Nominations are to the categories of "Tour of the Year", "Song of the Year, Streaming", "Top Latin Albums", Male Artist of the Year, "Tropical Song of the Year" and "Tropical Artist of the Year, Soloist":
The "Golden Tour" tour was among the 20 most successful last year and selected by Billboard as one of the highest grossing.
This tour was ranked fifth in sales, which made it one of the tours with the highest international revenue.
It was also chosen by the magazine Pollstar as one of the best and highest collection of 2018.
The tour kicked off on February 15, 2018 with three full performances at Madison Square Garden in New York and continued through Canada, Spain, Italy, Switzerland, Israel, France, Mexico, Panama, Chile, Argentina, Peru and the Dominican Republic.
The closing of the tour went on Friday and last Saturday in Puerto Rico with two shows sold.
In his presentation on Friday, Romeo had as guest guests Daddy Yankee and Ozuna, with whom he performed "Bella y Sensual", and "Ibiza", "El Farsante" and "Sobredosis", respectively.
In total, around 80 cities and more than 1 million people witnessed this tour.
The music video of "El Farsante", together with Ozuna, exceeded one thousand visits on YouTube.
The most recent single from Santos, the remix of "Ella quiere Drink", along with Anuel AA, reached the first position as a Latin song in the United States, as well as the Latin Airplay and Latin Rhythm Airplay charts of the Billboard Charts. (EFEUSA) .-