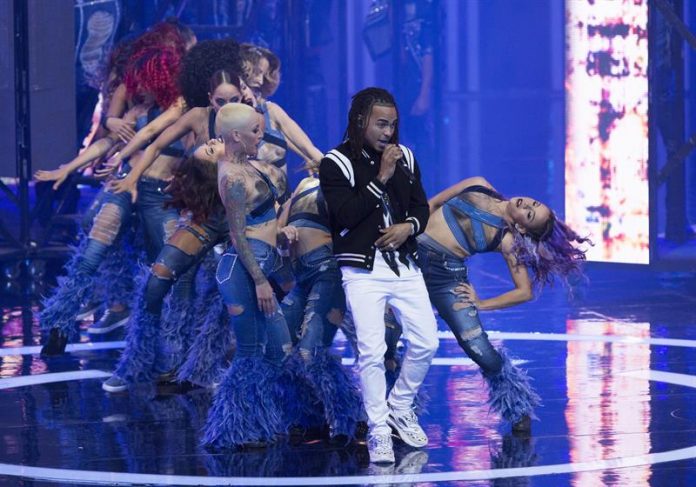 The Puerto Rican Ozuna, with a record of 23 mentions in 15 categories, starts as a favorite of the Billboard Latin Music Awards 2019, in which urban music consolidates its current supremacy over any other genre.
Ozuna is followed by J Balvin, Nicky Jam, Bad Bunny and Daddy Yankee in number of mentions, but far behind.
The list of candidates for these important awards that will be presented on April 25 was released today at the same time in the morning program of the Telemundo chain "Un Nuevo Día", the digital platform PremiosBillboard.com and Billboard.com.
"I am very grateful to God for this great joy that has given me a finalist 23 times at the Billboard Latin Music Awards, I thank my family for always being with me, my fans for following my steps, to Billboard, to Telemundo, and all the media for the support they have always given me, "Ozuna said in a statement.
The Puerto Rican is a finalist in the categories Artist of the Year, Composer of the Year, Male Artist of the Year within the sections "Hot Latin Song" and "Top Latin Albums" and Solo Artist of the year in "Latin Rhythm".
His song "Te boté" is nominated as a song of the year in "Hot Latin", "Airplay", "Digital", Streaming "and" Latin Rhythm "," Taki taki "in" Hot Latin "and" Digital "; I deny "in" Airplay "," Latin Pop "and" Latin Rhythm "," El Farsante "in" Streaming "and" Sobredosis "in" Canción Tropical ".
For "Te boté" and "Taki taki" he is twice finalist for the vocal collaboration of the year in Hot Latin.
As for album of the year, it has two candidacies for "Aura" and "Odyssey" in "Top Latin" and two others for the same albums in "Latin Rhythm".
Ozuna is followed, competing in many categories with him, the Colombian J Balvin and the American of Puerto Rican and Dominican origin Nicky Jam, tied with 13 nominations each; the Puerto Rican Bad Bunny with 12 and Daddy Yankee, also of the so-called "island of charm", with eight.
The award ceremony for the Latin Music Billboard will take place at The Venetian in Las Vegas and will be broadcast live on Telemundo, the Spanish entertainment channel Universo and Telemundo Internacional.
Before the awards, from Monday 22nd April, the Latin Music Week will be held in Las Vegas, the conclave in which the situation and trends of the industry are analyzed and great figures participate in colloquia and other activities.
Among other topics this year will be about how Brazilian music is entering the mainstream, machismo or feminism in regional Mexican music and a new business model in which digital distribution companies are transformed into content creators and brands and in publishers.
This year's awards reveal a diverse group of artists competing in 34 different categories ranging from "Top Latin Album" of the Year, Artist of the Year, "Hot Latin Song" Song of the Year to Tour of the Year and Composer of the Year.
The categories also highlight the genres of pop, tropical, regional Mexican and Latin rhythms.
Casper Mágico, Darell, Nio García and Romeo Santos are six times finalists, and Banda Sinaloense MS and DJ Snake, five times finalists.
Anuel AA, Cardi B, Raymix, Reik and Shakira achieved four mentions each.
With three mentions appear on the list CNCO, Karol G, Maluma, Floor 21, Selena Gomez, T3r Elemento and Wisin, and with two Aventura, Caliber 50, Carlos Vives, Demi Lovato, Drake, Enrique Iglesias, Jennifer Lopez, La Sonora Dynamite , The Plebes of Rancho de Ariel Camacho, Natti Natasha, Rosalía, Sebastián Yatra and Zion & Lennox.
Among those who only have one are great figures such as Luis Miguel, Fonsi, Maná, Víctor Manuelle, Marc Anthony, Marco Antonio Solís, Gilberto Santa Rosa and Buena Vista Social Club.
The Billboard Latin Music Awards are the only ones to honor the most popular albums, songs and performers based on the results of real sales, streaming, radio broadcasts and social networks that provide information to the weekly Billboard lists during a period of one year. year.
Nielsen Music provides the sales data for albums, digital sales, streaming and radio information, while Next Big Sound is responsible for social media data.
The Billboard Latin Music Awards also include the awards named Spirit of Hope, Hall of Fame and Artistic Trajectory, whose winners this year have not yet been announced.
Among the previous winners in these categories are Alejandro Fernandez, Andrea Bocelli, Banda El Recodo, Carlos Santana, Carlos Vives, Daddy Yankee, Intocable, Jennifer Lopez, Juanes, Los Tigres Del Norte, Manna, Marc Anthony, Marco Antonio Solis, Miguel Bosé, Olga Tañón, Ricardo Arjona, Ricardo Montaner, Ricky Martin, Shakira and Vicente Fernádez. (EFEUSA) .-