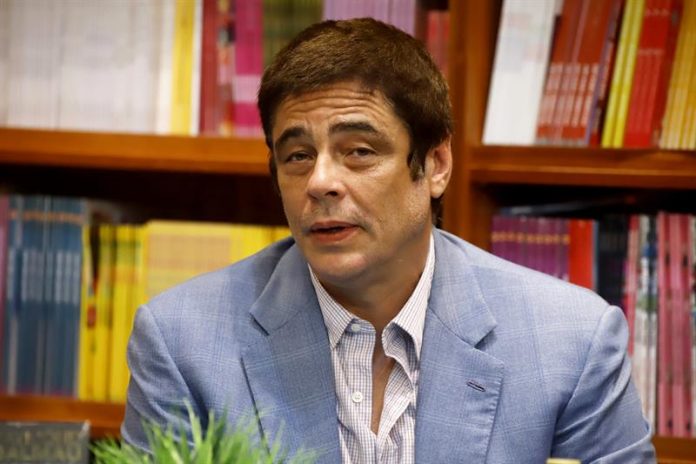 Puerto Rican actor Benicio Del Toro, winner of an Oscar Award in 2001 for Best Supporting Actor in the movie "Traffic," said today that it will be a decision of Puerto Ricans to resolve their political status, currently a Commonwealth of Commonwealth (ELA). United since 1952
Del Toro offered this previous opinion to participate in a conversation about the book "Raymond Dalmau, from Harlem to Puerto Rico", of the Puerto Rican Olympic exbaloncestist of the same name, and of which he wrote the prologue.
In the text, the ex-sportsman admits that he supports the "statehood" or annexation of the island to the United States.
"That is what the Puerto Ricans decide, I keep it to myself, but that must be decided by the Puerto Ricans, if we go to one side or the other, the Puerto Ricans have to decide," the actor reiterated, after EFE I will question him about his opinion of the political status of the Caribbean island.
Puerto Rico, which in 1898 passed from sovereignty of Spain to the United States, is a territory of about 3.5 million inhabitants.
Its particular status allows the island, thanks to its own Constitution and Legislative Assembly, to acquire its own Executive and a certain degree of autonomy, although areas such as defense, borders or diplomatic relations are reserved by Washington.
Puerto Ricans residing on the island can not vote for the president of the United States.
Since getting its political status, Puerto Rico has held five plebiscites to know if Puerto Ricans prefer to continue with the Commonwealth, annex the United States or become independent.
The plebiscites, without binding character, have been celebrated in the years 1967, 1993, 1998, 2012 and 2017.
Dalmau was the one who chose Del Toro to write the prologue, since both are friends for a couple of decades, because of the actor's interest in the ex-sportsman.
The actor's liking with Dalmau comes from when the exbaloncestista played with the Piratas de Quebradillas and the Puerto Rico basketball team.
In addition, Del Toro participated in the movie "Basquiat", in which he played the role of Danny, but at the time they gave him the script, he did not have a last name, so the Puerto Rican actor included the last name Dalmau.
This inclusion also led Del Toro to use a replica of a Dalmau shirt from the Puerto Rican squad. (EFEUSA) .-