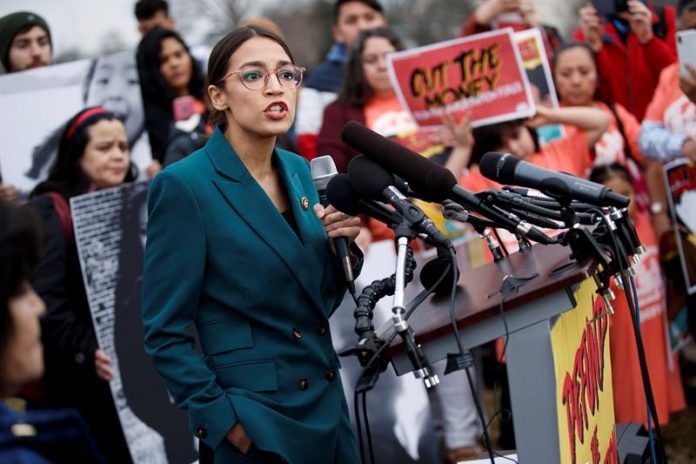 Democratic congresswoman Alexandria Ocasio-Cortez, an emerging figure in her party, today presented an ambitious plan for the country to neutralize its greenhouse gas emissions within 10 years, by producing 100% of its energy through renewable sources .
The initiative is not yet a bill, but a resolution that defines the objectives of the "Green New Deal" ("New Green Pact") that have long advocated several progressive figures and that seeks to dramatically increase government spending in the fight against climate change.
"It is the duty of the federal government to create a New Green Pact to reach zero net emissions of greenhouse gases, through a just transition for all communities and workers," says the proposal of the congresswoman, backed by Senator Senator Democrat Ed Markey.
The plan has a complicated future, given that the government of President Donald Trump has parked federal initiatives against climate change and has acted to increase the production of fossil fuels such as oil and coal.
To achieve its objective, Ocasio-Cortez and Markey consider it necessary that "100% of the energy demand in the United States" be addressed with "sources of clean, renewable energies that generate zero emissions," the resolution indicates.
For this, it will be necessary to "expand and update dramatically existing renewable energy sources", in addition to "update all existing buildings in the US and build new ones to achieve maximum energy efficiency," the plan adds.
Lawmakers also seek to provide economic guarantees to workers in the fossil fuel industries so that they can make the transition to production from renewable sources.
The president of the House of Representatives, the Democrat Nancy Pelosi, reacted with some skepticism to the proposal, saying that it is "one of several suggestions" she will receive about climate change.
"The green dream or whatever they call it, nobody knows what it is," Pelosi said in an interview with the daily Politico.
In a subsequent press conference, Pelosi tried to qualify her statements, stating that she has not read the Ocasio-Cortez plan but that she is "enthusiastic" about him and that she always applauds that.
In the same act, Pelosi announced the creation of a new select committee in the Lower Chamber responsible for the fight against climate change, which however will not participate Ocasio-Cortez, who at 29 years is the youngest congresswoman of the Capitol and he held his position last January. (EFEUSA) .-