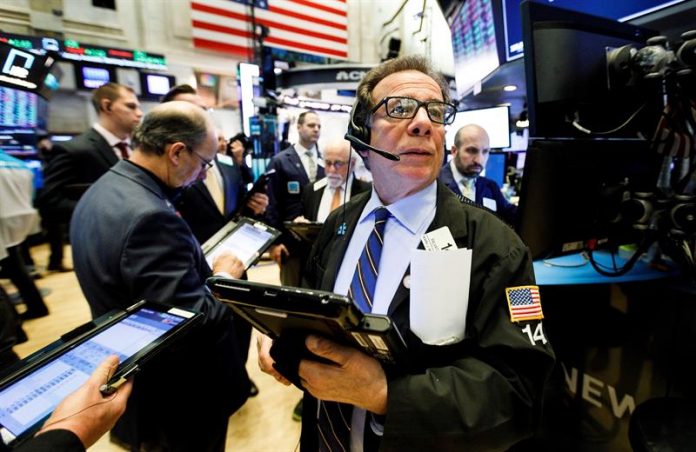 Wall Street opened today in mixed terrain and the Dow Jones Industrial, its main indicator, fell 0.30%, with markets looking for direction before another day of business results.
Half an hour after the start of operations, the Dow Jones cropped 74.66 points, up to 24,989.23 whole, and the selective S & P 500 yielded 0.24% or 6.61 units, to 2,699.92.
The composite index of the Nasdaq market was green, where the main technological groups are listed, advancing 0.17% or 12.46 whole, to 7,276.33.
The corporate sectors opened with losses in the energy sector the public utility companies (-0.76%, both) and the health sector (-0.58%). The most significant increase was that of technology, of 0.42%.
The New York parquet began Monday the session with the Dow and the S & P 500 oscillating near the flat line and the Nasdaq up, but in a matter of half an hour the first two indicators fell back and clearly entered into negative territory.
Last week was the sixth consecutive accumulated profit for the Dow Jones, driven by the latest data on employment in the US, which had a mixed reception, and the prospect that the Federal Reserve is more "patient" in your monetary adjustment.
On Monday investors are waiting for the closing to know the corporate results of the technological giant Alphabet, which advanced 1.05% at this time, and still digest the quarterly accounts published by the big oil companies in the country and other major firms such as Amazon or Merck.
Analysts indicate that almost half of the S & P 500 companies have already disclosed their results and, of these, more than two thirds have exceeded expectations.
In the group of 30 listed companies of the Dow Jones, Pfizer (-1.49%), DowDuPont (-1.42%), ExxonMobil (-1.16%), Johnson & Johnson (-0.88%), stood out. ) and Chevron (-0.78%).
They rose, among others, the titles of Apple (1.63%), Boeing (1.57%) and Microsoft (1.40%).
In other markets, Texas oil fell to $ 54.19 a barrel, gold fell to $ 1,314.90 an ounce, the yield on the 10-year Treasury bond rose to 2,722% and the dollar gained ground before the euro, with a change of 1.1433. (EFEUSA) .-