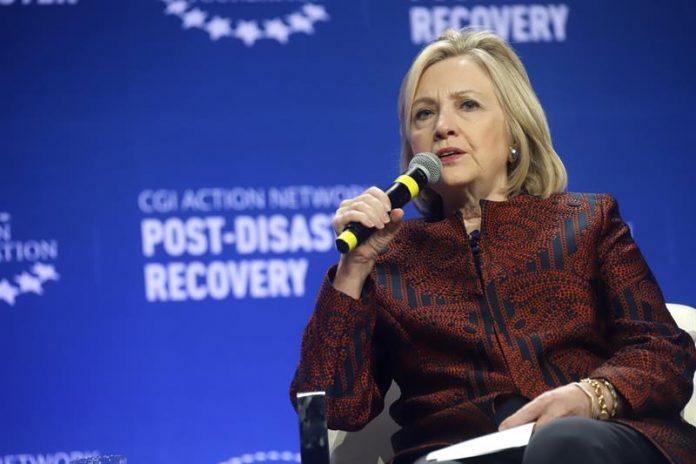 Former US Secretary of State Hillary Clinton said today that organizations and governments have not provided enough help needed by Puerto Rico and the Caribbean region after the hurricanes of September 2017 that devastated the area, especially Cyclone Mary.
"Organizations and governments have not done enough to help here," Clinton said during the panel "Helping tomorrow's leaders: creating opportunities for youth," on the final day of the Clinton Global Initiative (CGI) meeting. ) held in San Juan on recovery from the hurricanes of 2017.
The San Juan meeting is the third of the CGI's Action Network on Post-Disaster Recovery and tries to focus on recovery needs, especially in the territories of Puerto Rico, the Virgin Islands of the United States, Dominica and Antigua and Barbuda.
"I am proud of the work of the CGI," said the former US secretary of state.
Clinton stressed that aid is essential, since the Caribbean region traditionally endured an unemployment rate of around 20%, a percentage that has even increased after the hurricanes of 2017.
He said that the effects of hurricanes have felt youth with special virulence and that is why aid should focus on that group.
"There is a lot to do and include young people is fundamental," said Clinton, after highlighting how in September the hurricanes in September particularly affected small businesses.
Therefore, he recalled that the CGI has provided assistance to more than 200 small and medium-sized companies on the Caribbean island.
The panel counted with the participation of the mayor of San Juan, Carmen Yulín Cruz, who recalled how after the passage of hurricane Maria, the municipality she leads focused on offering all possible help in the refuges of the capital.
"We helped in the shelters to make sure the children were well looked after," he said.
Cruz said that it is necessary to help the youngest, after noting the fact that in Puerto Rico 60% of children live below the poverty line.
The panel also included the participation of Sawana Fabien, a specialist in response to natural disasters in Dominica, which was precisely one of the Caribbean territories most affected by Hurricane Maria in 2017.
Fabien acknowledged that the magnitude of the disaster was monumental and that the improvement of the situation was only possible thanks to the collaboration of the communities.
Adejah Benjamin, who collaborated in reconstruction work in Saint Thomas, in the US Virgin Islands, said that thanks to the help received at present, the situation in that Caribbean territory has improved substantially.
The president of the NGO Save the Children, Carolyn Miles, stressed that children are the future and that after the passage of Hurricane Maria in September 2017 material aid was provided, but especially psychological to recover a population that suffered for months.
The former secretary of the US Department of State and her husband, former President Bill Clinton, lead a meeting organized by the CGI in collaboration with the Clinton Foundation that addresses the needs of recovery after the hurricanes of the territories of Puerto Rico, the Islands Virgins of the United States, Dominica and Antigua and Barbuda. (EFEUSA) .-