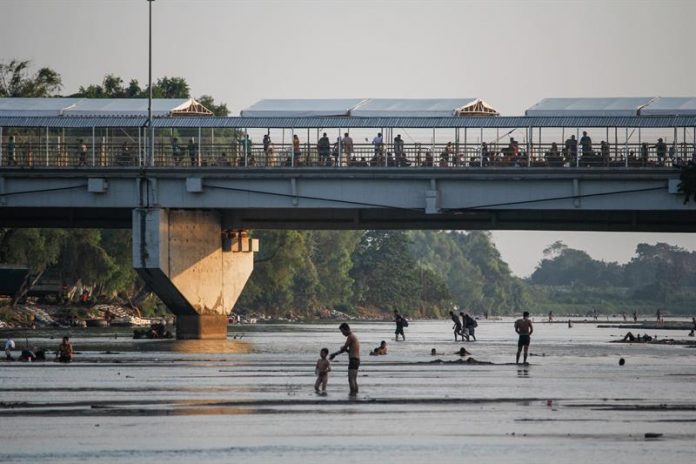 Some 3,000 Honduran migrants who are in the Guatemalan city of Tecún Umán will cross next week to Mexican territory with or without immigration permission, the Guatemalan Human Rights Ombudsman (PDH) said on Saturday.
The delegates of the Attorney General's office verified the situation of Central American migrants in the Rodolfo Robles bridge and in the central park of Tecún Umán, Guatemala's border with Mexico, where there are approximately 3,000 people, the agency said.
According to the PDH, the municipal authorities informed them that they do not have the capacity to maintain the shelter, and the National Migration Institute of Mexico told them that they will not extend more permits or passes.
Before that decision, alerted the institution that directs the prosecutor Jordán Rodas, the migrants announced to them that next week they will enter Mexico with or without passes.
"In this last mass exodus of migrants, no institution has carried out humanitarian assistance actions," said the PDH.
The Ministry of the Interior (Interior) reported that several public institutions in Guatemala are analyzing a protocol with the purpose of giving a dignified attention to the caravans of Central American migrants who cross the territory on their way to the United States.
The authorities informed that the entities will formulate their proposals to integrate the aforementioned protocol, because in the Guatemala-Mexico border, each unit must attend in a coordinated manner and according to what its functions are.
The Ministry of the Interior added that it seeks to guarantee the free movement of migrant citizens but always with the respective documentation and respecting the Guatemalan migratory laws when entering or leaving the country.
"The country must be prepared to face new mass movements of migrants and be able to serve them in a dignified way," he said.
Several caravans of Honduran and Salvadoran migrants have passed through Guatemalan territory in transit to the United States via Mexico fleeing poverty and insecurity in their countries, despite the announcement by US President Donald Trumpo not to let them enter.