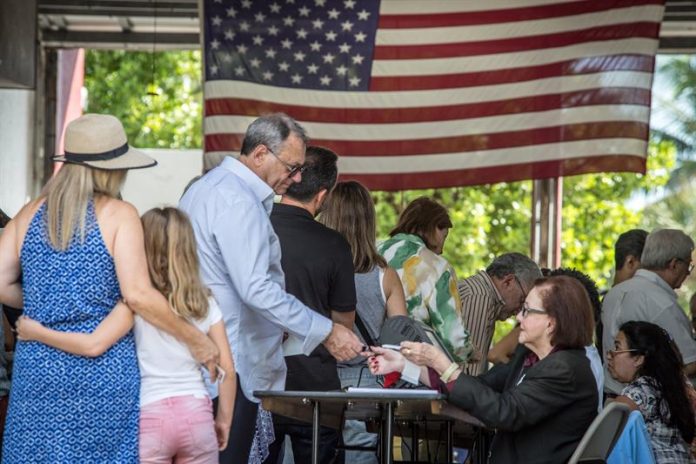 Florida Governor Ron DeSantis today ceased effective enforcement with Palm Beach County Supervisor Susan Bucher and accepted the resignation of her Broward County counterpart Brenda Snipes, effective January 4, for the sake of " regain faith in the electoral processes "of the state.
Both decisions, taken by decree, have to do with how Bucher and Snipes handled the process of counting the votes of the midterm elections on November 6.
In both Palm Beach and Broward there were delays in the counting of votes, unreliable information about the votes cast and other failures.
"Today we put the attention on the need to recover the faith in the electoral processes of Florida," said DeSantis, who considered that in the other 65 counties of the state the electoral process of November 6 was done "well".
The governor said that Bucher demonstrated that she was unable to comply with state laws and her duties as an election supervisor and could not give precise information about the number of ballots that had been counted.
"It's time to turn the page in Palm Beach County to ensure the reliability and transparency of our election officials," he said.
The governor appointed two new electoral supervisors, Chris Anderson, a veteran from Afghanistan, for Seminole County, and Wendy Sartory Link for Palm Beach County.
Snipes had been suspended at the end of November in her duties by the former governor, Rick Scott, a Republican as DeSantis and today a senator in Washington, "for embezzlement, incompetence and negligence in duty."
Scott appointed attorney Peter Antonacci instead, who took over as Broward County's electoral supervisor last December.
Although he had announced his resignation on January 4, following the national controversy caused by the delays and failures of his team during the November electoral process, Snipes backed down due to what he considered a "sanction" on the part of Scott and asked the justice to be reinstated in his post.
Both DeSantis and Scott were directly affected by delays and scrutiny problems in Palm Beach and Broward.
The same night of the elections they were declared winners of the Interior and a position in the Senate, respectively, but their respective victories, although adjusted, were not confirmed until a long process of recounting the votes.