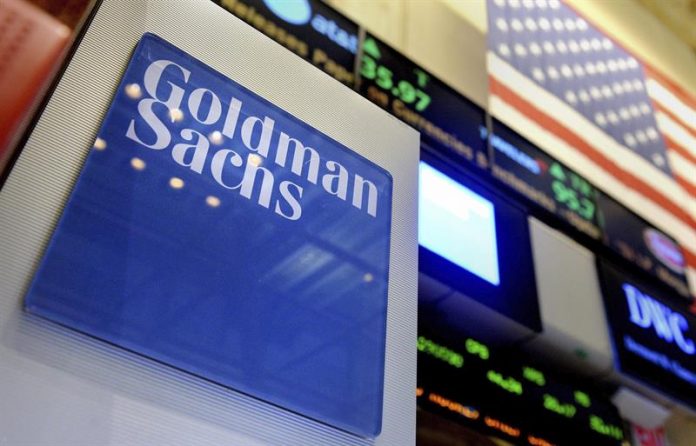 The banking group Goldman Sachs earned 10,459 million dollars in 2018 and boosted its profits by 144% with respect to 2017, surpassing the expectations of analysts, thanks to the activities of loans and investments and despite the turbulences of the financial market at the end of year.
The investment banking and institutional group based in New York today announced a net profit per share of $ 25.27, 180% more than the previous year, when it entered $ 4,286 million ($ 9.01 per title).
The conglomerate's annual revenues reached 36,616 million dollars, an increase of 12% compared to the 32,730 million invoiced a year earlier.
Regarding the quarterly results, which Wall Street analysts paid more attention to today, Goldman Sachs earned 2,538 million dollars in the last three months of 2018, compared to the net loss of 1,928 million that it experienced in the same period. period of the previous year.
Billing between October and December 31 last amounted to 8,080 million dollars, 1% lower than the income experienced by the banking group only a year earlier, when they were 8,124 million.
On the other hand, the quarterly profit per share was of 6.04 dollars, while the previous year each title supposed losses of 5.51 dollars.
Regarding the annual revenues by divisions, again the services to institutional clients billed most, with 13,482 million dollars (13% more), followed by the activities of loans and investments with 8,250 million (14% more), banking of investments with 7,862 million (7% more) and investment management with 7,022 (13% more).
"We are very happy with our activity last year, achieving more solid results despite a challenging backdrop for our business in the market during the second half of the year," the company's president and CEO, David, said in a statement. Solomon
Solomon, head of the bank since October, was also pleased to have achieved a "double-digit" growth in the company's revenue, "the largest in our history," and pledged to continue diversifying the business and improving the results in coming years.
Although these data were known before the opening of the New York Stock Exchange, analysts received them with enthusiasm as they far exceeded Wall Street forecasts.
All in all, last year was especially bad for the conglomerate in the markets, which was devalued by around 30%, partly due to the turbulence in the stock exchange at the end of the year and due to the guilty plea of ​​an ex-responsibility of the entity, who assumed to have helped a Malaysian financier steal an investment fund valued at millions of dollars. (EFEUSA) .-