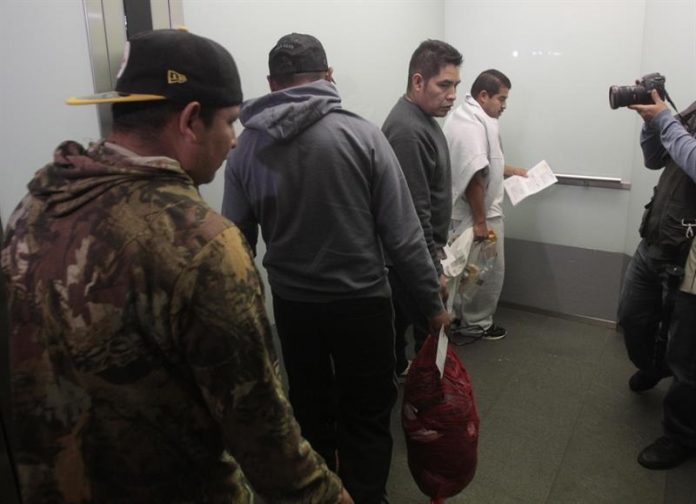 Authorities in the United States and Mexico deported some 75,105 Honduran immigrants in 2018 for illegally residing in those countries, Honduran first lady Ana García said today.
According to the wife of Honduran President Juan Orlando Hernández, until December 31, 2018, 75,105 Hondurans returned from those countries, of which 44,760 were returned from Mexico and 30,345 from the United States. While 174 others were returned from other countries, a statement from the Presidency said.
García presides over the Honduran Migrant Assistance Task Force and today presented a summary of the main achievements during 2018, in addition to announcing an advance of the plans for 2019.
"As a Task Force, we will continue to serve our compatriots in a dignified, humanitarian manner and with strategies that allow us to address the structural causes of migration," García told reporters.
He added that the Task Force works with the Association of Municipalities of Honduras, the Ministry of the Interior and the International Organization for Migration (IOM) to establish by 2019 the Departmental Units of Assistance to Returned Migrants and strengthen the 14 Municipal Attention Units to the Migrant (UMAR) already existing.
He also highlighted that one of the most important achievements in 2018 was to establish the Comprehensive Development Plan between the countries of the Northern Triangle of Central America (El Salvador, Guatemala and Honduras) and Mexico to promote actions that generate development and opportunities at the local level.
It is about contributing to the prevention of irregular migration and at the same time mitigating the structural causes that originate it, adds the official information.
García also referred to the adoption of the Global Compact for Safe and Orderly Migration, signed in December in Morocco by most of the countries of the United Nations, which recognize that migration must be addressed in an integral manner under the principle of shared responsibility, but differentiated.
The Honduran first lady also indicated that in the United States some 42,407 Hondurans re-registered in 2018 in the Temporary Protected Status (TPS).
About the thousands of Honduran immigrants who left their country in a caravan, on October 13, 2018, with the goal of reaching the United States, García said that 7,264 returned voluntarily.
He added that more than 2,000 Hondurans who wanted to enter the United States illegally continue to be housed in Mexico, waiting to file asylum applications with the US authorities, for which they have to wait until at least March.
Nelly Jerez, Vice Minister of Consular and Migratory Affairs, participated in the presentation of the report of the first lady; the Vice Minister of Development and Social Inclusion, Doris Mendoza, and the Director of Protection to the Migrant of the Ministry of Foreign Affairs, Liza Medrano.