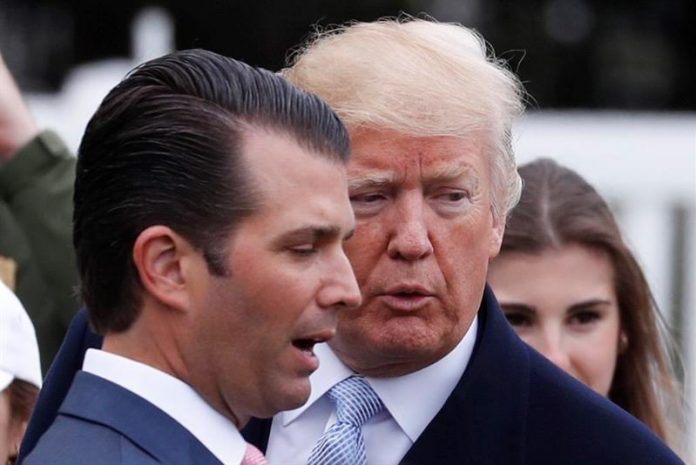 Natalia Veselnitskaya, the Russian lawyer with whom the eldest son of US President Donald Trump Jr. admitted having met in 2016 in search of compromising information against Hillary Clinton, has been charged in New York for false information about the firm Prevenzon.
As reported today by the Prosecutor's office for the southern district, Veselnitskaya, which certifies having links with senior officials of the Russian government, gave false information to the US Justice on the involvement of the Cypriot investment firm Prevezon, whose defendants she represented in EE .US., In relation to a tax evasion scheme based in Russia.
The Prosecutor's Office took legal action in 2013 against Prevezon to recover "several million dollars" in properties located mostly in New York, alleging that they had been used to launder proceeds from a criminal organization that includes corrupt Russian officials.
The 43-year-old lawyer, charged with obstruction of justice, allegedly "fabricated evidence" that exonerated her Prevezon clients in collaboration with a Russian prosecutor, and pretended that they had been independently produced by the Government of that country.
Manhattan prosecutor Geoffrey S. Berman accused Veselnitskaya in a statement "providing false and misleading statements to a federal judge," while the National Security agent in charge of the case, Ángel M. Meléndez, indicated that he is now the list of people wanted by the USA
It is for "intentionally deceiving US investigators about the role of Prevezon Holdings in a $ 230 million tax evasion scheme" that sought to "influence the legal process" undertaken by the Prosecutor's Office, Meléndez added.
Veselnitskaya, who faces up to 10 years in prison if convicted, is known in the US. for the meeting he held at Trump Tower with President Donald Trump's eldest son, in addition to his son-in-law and his campaign chief, when they were looking for damaging information about Democratic presidential candidate Hillary Clinton.
That meeting is part of the investigation carried out by special prosecutor Robert Mueller on the alleged interference of the Kremlin in the elections that gave victory to Trump.
Trump Jr. claimed, in the midst of that scandal, that Veselnitskaya had said he had damaging information against Clinton but later it was "clear" that it was not so, but it was a "pretext" to address an issue that interested her, the adoption of Russian children. (EFEUSA) .-