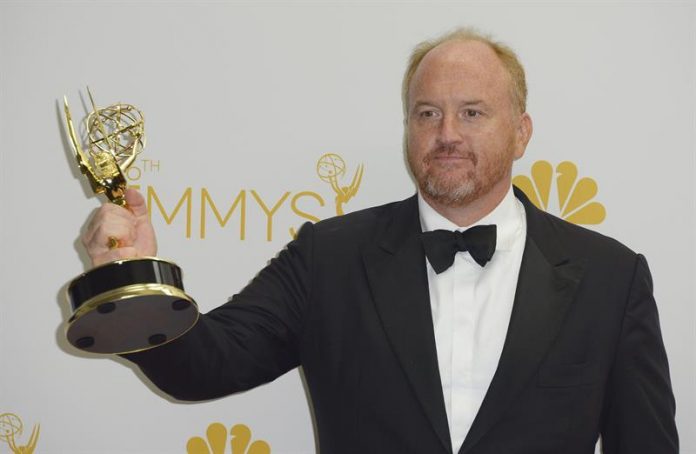 The comedian Louis CK, accused by women of having masturbated in front of them, is again the center of the controversy today after an audio was leaked in which he mocked the students who survived the shooting at a Parkland school (Florida ).
In the 48-minute audio, which was released late on Sunday, the comedian is heard during a humorous show making fun of students at Marjory Stoneman Douglas High School, where 17 people died last February, as well as young people with neutral sexual identity.
The clip was initially published on YouTube and later deleted, although Jack Allison, who claims to be a former screenwriter for television personality Jimmy Kimmel, recovered two minutes and uploaded them to his Twitter account.
He can be heard saying that the young people of the Floridian school who lead a national campaign to achieve greater control in the sale of weapons are not "interesting" and they are not as much as they have spoken before the US Congress. and went to a "high school where they shot the children".
"Why does that mean I have to listen to you? Why does that make you interesting? They did not shoot you. Have you pushed a fat kid on the road and now I have to hear you talk?" He said in reference to the Parkland youth, located north of Miami, and where an alumnus, Nikolas Cruz, killed 17 people with an assault rifle.
These comments by Louis C.K., who according to the video uploaded to YouTube were part of a show by the comedian on December 19, have unleashed a bitter controversy on the Internet and is the most sought after news in the United States, according to Google.
From netizens who say turning a "school shooting into comedy is almost impossible and he fails miserably", as Paige Ream assures, to those who, like Seiji Carpenter, say directly that it is "disgusting" to hear the words of Louis CK
"LouisCk's comedy is abusive, just as the way he sexually harasses women is abusive." Teasing children shot to death "It's not fun at all," says another Internet user, who asks to change career professional.
Among the netizens who reacted to the jokes are some of Parkland's students, such as Cameron Kasky, who today called "offensive" the words of Louis C.K.
Also on Twitter, Fred Guttenberg, father of Jaime Guttenberg, one of the 17 victims of the shooting, encouraged the comedian to go to his house and tell his wife and his "pathetic jokes".
During his show, the comedian acknowledges that his comments may generate controversy, but that he has little to lose.
"What are you going to do, take my birthday away? My life is over and I do not give a shit," he says in an audio that USA Today says he has not been able to confirm its authenticity, although followers and detractors of the comic take it for granted. in social networks, where the limits of humor are debated.
The comedian returned to the stage this fall after five women in November 2017 accused him of sexual misconduct and detailed moments when he undressed and masturbated in front of them, or did so while talking on the phone.
Louis C.K. was until then one of the most respected artists in the American comedy, usually gathered tens of thousands of people in their live performances and is the creator of the popular television series "Louie". (EFEUSA) .-