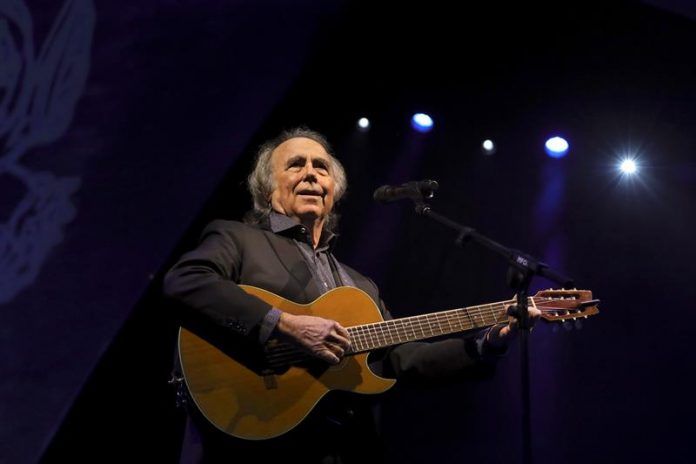 The Mexican singer-songwriter Armando Manzanero revealed to Efe today that on January 6 he will sing for the first time with his daughter María Elena in the concert "Tributo a Mérida", within the framework of the 477 years of the foundation of this city ​​of the Mexican southeast.
Manzanero, 83, confirmed that it will be the first time he has shared the stage with his daughter, who will accompany him on the last of the four songs he will perform at this concert, which will bring together different artists in the Plaza Grande de Mérida.
"Do you know what is the most beautiful thing? That the last song called 'Despierta paloma', by composer Enrique 'Coqui' Navarro, I will sing it for the first time with María Elena, that will be another privilege, because I had never been on a stage before with my daughter, "he explained.
The Mexican composer and singer told Efe that singing for his people fills him with joy and for that reason, "when they asked me to participate with four songs in the concert titled 'Tributo a Mérida', I immediately said" yes ", he said.
Arriving in Mérida to spend a few days with his children Martha, María Elena, Diego and Armando Manzanero Arjona, children of his first marriage, the composer pointed out that his purposes are "to continue working with the same enthusiasm as when I started in 1951".
The author of "Somos novios", "Contigo aprendí" and "I am going to turn off the light" confirmed that he will start 2019 with concerts in Acapulco and his native Mérida.
Manzanero expressed his happiness and satisfaction that his success "To sleep with you" has been taken up by the Puerto Rican singer Gilberto Santa Rosa in duet with the Mexican singer Aranza. "It is a privilege that singers from all over the world record my songs, especially if they are talented," he said.
"I feel flattered and happy that they keep singing my songs, with the same affection as when I started in 1951, at that time I was 21 years old", although his first song titled "Never" in the world was written in 1950.
This will be the second time that Gilberto Santa Rosa records a Manzanero song after, said the Mexican composer, a few years ago he recorded one of my songs with the trio of Los Panchos.
"I celebrate the distinction of Gilberto Santa Rosa and Aranza, who a few days ago recorded that beautiful song in Puerto Rico," says Manzanero, author of more than 600 songs.
Among those who have recorded their songs are Elvis Presley, Los Panchos, Alejandro Sanz, Miguel Bosé, Olga Tañón, Rosario, Ricardo Montaner, Francisco Céspedes, Luis Miguel, Lucero, Tania Libertad and Andrea Bocelli.
"It is a privilege for singers from all over the world to record my songs, especially if they are talented," the author of "Somos novios", "Contigo aprendí" and "I am going to turn off the light" tells EFE.
(EFEUSA) .-