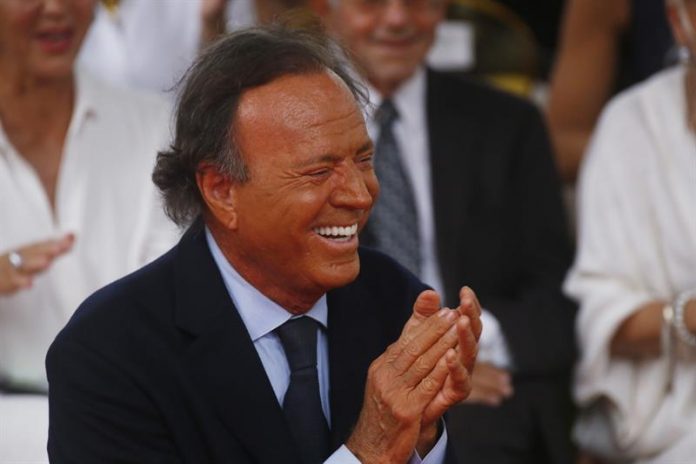 Julio Iglesias confessed today excited Efe, after knowing that he will receive the honorary award of the Recording Academy, which remains a "guerrilla of life from beginning to end" and that this award is a "great stimulus" for his professional career .
"It's the last thing I expected, it's a prize that honors me a lot and I want to receive it, without false modesty, because it is an unforgettable memory in my life," said the most universal Spanish singer in reference to the Lifetime Achievement Award, recognition it will be delivered to you during the next edition of the Grammys.
In the telephone interview, Iglesias said that this award that honors his career and have received artists such as Frank Sinatra, Elvis Presley, Caruso or Miles Davis is an "injection of vitamin B12 multiplied by a thousand", a vitamin that said, "It reaches my nervous system in a fundamental way."
Double reason for pride, he said, for being the third Spanish to receive this award, after Andrés Segovia (1986) and Pau Casals (1989).
Half a century after his victory at the Benidorm Festival in 1968, with which he started one of the most extraordinary careers in the history of music, Iglesias (Madrid, 1943) is still considered a "guerrilla" of life, because the Effort and passion are an integral part of the fabric of his existence.
"I have been a guerrilla fighter because everything has cost me work in life, I did not have legs, I was dead, and my soul was in suspense," he said, against the background of the terrible traffic accident he suffered in 1963 and was point to cost your life.
During the course of the years, this "soul in suspense" has led him to "play the guy", to "give curves, from time to time faster", and without which, he says, life would no longer be the art of seduction that the singer has exercised throughout the world.
A seduction of universal range: nothing else is the more than 350 million albums sold, which make him the most successful Latin artist in the history of music.
The condition of "adventurer" has also been a substantial element of his life and destiny, because, if not, he explained, "how are you going to sing in so many languages ​​(14) with a terrible effort?".
Asked if he is still "bohemian, poet and gulf", as the lyrics of "Quixote" say, one of his greatest successes, he answers with his usual sense of humor that "much less gulf" and Bohemian at age 75 is "very difficult" when you're not a genius. " "And I'm not," he said.
Neither the singer has managed to live in peace, like the vagabond of that song, because he considers himself a "total guerrilla from beginning to end", to the point that, he said, "to stop being a guerrilla would stop wanting to continue living" .
On the possibility of recreating songs, the singer of world hits such as "The Road", "Love, love", "Hey!", "I'm going, I'm going", "Careless Whisper", "Nathalie" or "Caruso "He acknowledged that writing songs like" I forgot to live "or" From girl to girl "is impossible.
"They are songs that mark a time of my life, and that emotion more intuitive than cerebral disappears over the years," the artist said, adding with irony that he now feels a "non-conformist who steals songs", something he likes because it is a "benign robbery and does not go to jail".
Today, when you hear him sing "El amor" or "Caruso", you can not stop thinking that there are "robberies" that should be considered the heritage of humanity, in which there is a lineage of artists that has not yet been lost.
In his last studio album to date, "México & Amigos" (2017, Sony Music), Spanish puts us in front of a handful of great Mexican songs that are confused with his life, songs that the artist remakes, reconstructs with voice own and unmistakable.
Julio Iglesias, who has published more than 80 albums, will receive the prestigious "Lifetime Achievement Award" for being the "most successful Latin artist of his time" and has become "an enduring star on the world stage and the most popular ambassador. of the Latin music of his era, "said the Recording Academy.