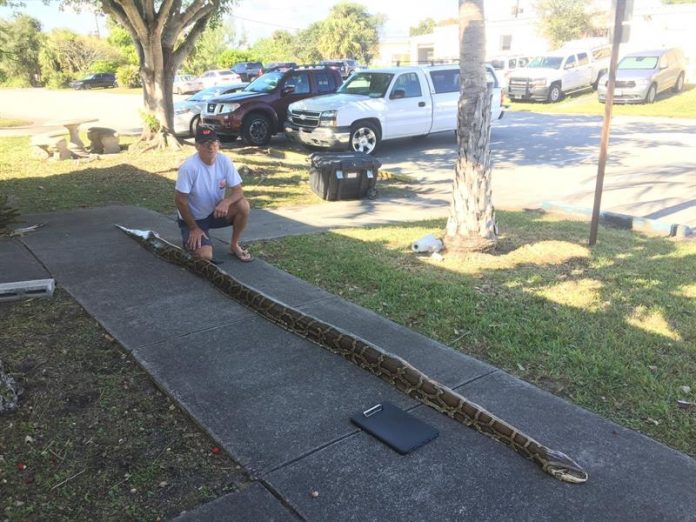 An 18-foot (5.4-meter) Burmese python was captured in a Florida Everglades wetland park and may be the largest specimen found in Miami-Dade County to date, the Commission reported today. Conservation of Wildlife and Fisheries (FWC).
The huge python was trapped in the marshy and wild area known as Francis S. Taylor by a trapper in these cold days of December when these non-native snakes are more visible.
The FWC posted on its Facebook account a photo of the impressive python displayed on a sidewalk next to a notebook to highlight the length of the snake.
In the colder months it is very likely that the population will see pythons during the day, "said a spokesman for the FWC.
Recently, a hunter participating in a program to eliminate the Burmese pythons from this gigantic Florida wetland captured a single 5.3 meters long and almost 55 kilos of weight in Miami-Dade County.
The program obeys the need to curb the proliferation of this non-native species that is causing damage to a protected ecosystem.
So far, this initiative has allowed the removal of 1,859 pitons from the Everglades, which together measured more than two miles and weighed more than eleven tons, the South Florida Water Management District (SFWMD), creator of the Program, said in a statement. of Elimination of Pitons.
The Burmese python, a giant constrictor snake native to Asia, has a negative impact on the wild areas of southern Florida, especially in the Everglades, where it is estimated that there could be more than 150,000 specimens.
For this reason, the pythons hunting and elimination program was created, whose participants, who must be registered as such, receive a payment per hour worked of $ 8.25, plus additional amounts for the specimens they capture, according to their size. (EFEUSA) .-