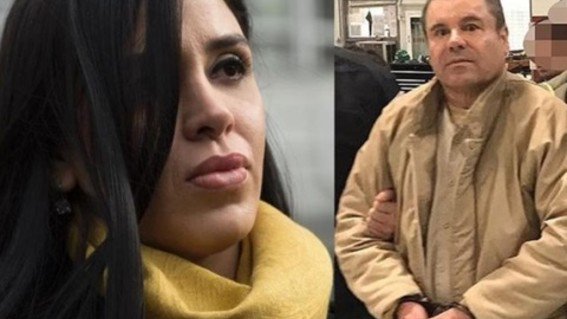 Mexican capo Joaquin "el Chapo" Guzman Loera, in a maximum security prison in New York almost two years ago, wants to be allowed to hug his wife, Emma Coronel Aispuro, before the start of the trial against him next 13th November.
Guzmán Loera, considered by the United States Government to be "extremely dangerous," made the claim through his defense in a letter sent to Judge Brian Cogan, which states that this brief meeting can be in the middle of the federal courtroom. in the district of Brooklyn, where he is tried for drug trafficking, weapons possession and money laundering.
In the arguments to the judge the lawyer Mariel Colón Miró adduces "humanitarian" reasons and she clarifies that that embrace would be "with the handrail of by means", the one that separates the public of the area where the judgment is realized.
It also indicates that this physical encounter would only take "a few seconds" and recalls that Guzmán has not been allowed to visit his wife in the maximum security prison where he has been since he was extradited to New York in January 2017 or to have contact with her through phone calls.
"Colonel has never been allowed to visit or communicate with her husband in any way," said the letter, sent Tuesday to the magistrate and released today.
Emma Coronel, 29, has attended pre-trial hearings against El Chapo, 61, in New York.
The letter adds that the reasons to justify limiting that family communication, something that has not changed, is "to prevent Guzmán from committing, soliciting or conspiring to commit another criminal activity."
However, the judge is told that this brief embrace of the couple, which would take place before the eyes of federal deputies, does not present a risk of Guzmán Loera's escape or that he passes a message to his wife, with whom he has twin daughters of seven years.
The Mexican capo, who was one of the most wanted men by the FBI and Interpol, formalized his relationship with Coronel, an exreina beauty in his town (they have not been officially married) in January 2007 in Durango, when she was 18 years.
The letter to Cogan notes that the only human contact he has had since his extradition is when prison staff takes him away and puts his wife and a brief shake of hand of his lawyers when he goes to court.
The alleged ex-leader of the powerful and violent Sinaloa cartel is in confinement 23 hours a day and is only allowed one hour to exercise but not to go out to the courtyard of the Metropolitan Correctional Center in Manhattan, where he has been since he was extradited, due to his record of leaks.
"He has been completely isolated, and as a result, his mental and emotional health has deteriorated, it is well known that isolation has an effect on a person's sanity", which could be a problem in his ability to help him effectively in his life. defense, "the letter indicates.
"In the interest of Guzmán's mental health and the interest of justice, we request that the request for a humanitarian gesture be granted," the document states.