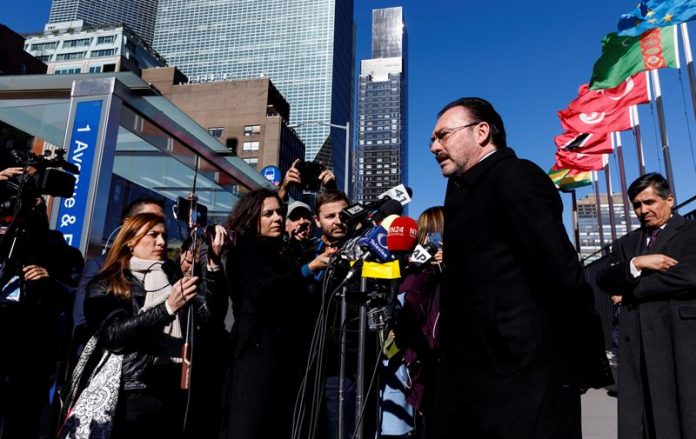 Mexican Foreign Minister Luis Videgaray said today that the threat of US President Donald Trump to close the border if the arrival of Honduran immigrants is not stopped is merely an "electoral" message.
Videgaray, speaking to reporters, recalled that the US is in the waiting room for elections and opted to put Trump's warnings in that context and "not give them greater importance or importance."
"In less than three weeks there are elections and I think we have to ponder those kinds of statements that, of course, nobody likes," he said.
The president of the USA He threatened today to order his military to "close" the border with Mexico if the neighboring country does not slow down the caravan of Honduran immigrants heading north.
"I must, in the strongest terms, ask Mexico to stop this onslaught (of immigrants), and if they can not do it, I'll call the US military and CLOSE OUR SOUTHERN BORDER!" Said Trump in his account. Twitter
Videgaray, meanwhile, recalled that Mexico "already has a lot of experience in knowing expressions of this type by President Trump" and recalled that his country does not "negotiate" or "diplomacy through Twitter."
"The border between Mexico and the United States is the busiest border in the world.
Every day more than one million people cross it legally, more than 400,000 vehicles. The trade between Mexico and the United States is one million dollars per minute, "he recalled.
"I think that before making decisions of this nature, anyone involved would think very very well," added the Mexican minister, who insisted on playing down Trump's warning.
Asked about the visit to Mexico to be made this Friday by Secretary of State, Mike Pompeo, Videgaray said that the US representative will be received "with pleasure" and assured that he has been "someone important" in the relationship between the two countries.
The foreign minister insisted that this relationship between Mexico and the United States. "It's much bigger than an isolated event like this caravan."
The caravan, he stressed, is something very important especially for the people who come in it and who are risking their lives.
Mexico's priority, according to Videgaray, is to ensure that the rights of these migrants are protected.
To that end, the foreign minister today asked the United Nations for support to manage the asylum requests that can be presented by the caravan members and said he had received a very positive response after a meeting with the secretary general, António Guterres.
Videgaray also explained that the Mexican authorities have been in contact with the Americans and that they have explained directly to the participants of the caravan the procedures provided by Mexican law for their possible entry into Mexico.