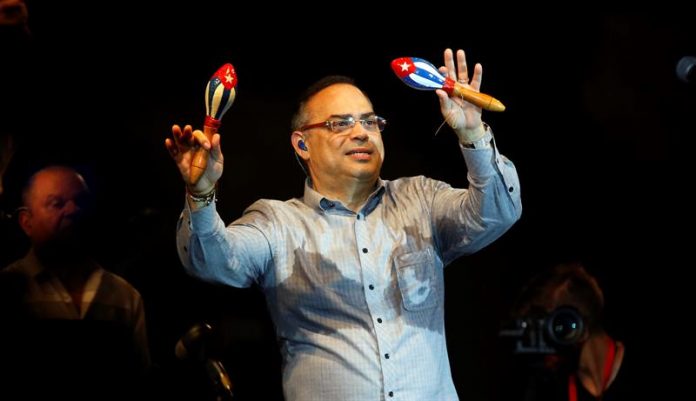 The singer Gilberto Santa Rosa, one of the most beloved and respected salsa players, has begun his journey to another 40 years in music with a new album, which he invited other stars of the genre and, for the first time, under an independent label.
In an interview with Efe, the Puerto Rican affirmed that the challenge now "is to complete forty more years" and to make different projects that are also preferred by the public.
That walk towards another four decades will begin with a new salsa record, which he has called "En buena compañía", by his guests, which will be released on September 21.
For this project, which he recorded with the Puerto Rican singer and composer Víctor García, a former schoolmate, and his orchestra La Sonora Sanjuanera, he has Andy Montañez, "one of the artists I admire the most", ex-singer from El Gran Combo de Puerto Rich.
"One day I went to a party, Victor was playing and I liked it a lot," he said, after assuring that he communicated with him to propose to make a record together, the first to be released under an independent label, after completing his long relationship of two decades with the Sony label, he said.
The album, produced by the singer, also includes Roberto Hernández Acea, known as "Robertón", singer of the Cuban group Van Van, with the ex-performer of that orchestra Yenny Valdéz, the Venezuelan Rodrigo Mendoza of the Latin Dimension, and García.
The album is already heard on various platforms "Quiéreme", in which follows its line of singing to love and lovelessness, the first track in promotion of the album, whose tour will start next February.
Santa Rosa will be back in New York on September 22 as a guest at a concert by the Mambo Legends Orchestra, created after the dissolution of the Tito Puente orchestra, where songs from the 40, 50 and 60 that reigned in the famous and already disappeared Palladium hall.
"This group preserves the sound and tradition of the mambo, I had the opportunity to record with them and they invited me to sing", at the concert at the Lehman Center for the Performing Arts in the Bronx, he said, recalling the presence of Latin musicians during those years in New York.
"They are an endless list of names", which includes the Cubans Mario Bauzá and Machito and the Puerto Rican Tito Puente "the king of timpani" and Tito Rodríguez "and the Palladium was an emblematic place for that music".
"The gentleman of salsa", who has celebrated his successful four-decade tour on stage, assured Efe that he would keep everything he had lived through in those years because "I lived with music for forty years, I got up as a man , I met the world, many of my idols, I worked with them, I made a solo career ".
"I can not complain, it is forty years of doing what I like and having life because I still have validity in the industry, I can go to places, sing and receive surprises," he said to acknowledge that he has not come alone to the place that today occupy
The artist points out that he has had many people on the road that has helped him, such as his label, promoters, musicians, composers, among others.
"Sometimes artists think that we are alone in the world, that we fell off a plane and that everything is made up because one does it alone, there are people who are worthy of being recognized," argued the sonero, whose concert "Gilberto Santa Rosa , 40 … and Counting "that he offered in Puerto Rico, with several stars as guests, was recorded by HBO and aired last Friday, on all its platforms.
The interpreter of "Conscience", "Forgive me", "Can say" or "I take it down", among others that have become preferred by the public, affirmed that "when you are doing the things you like, time goes by Quick".
For Santa Rosa, who started in music when he was just a teenager, the career of an artist is like a roller coaster: "go up, go down, go around and one day you realize that forty years have already passed" in which He has received countless recognitions, including the Grammy Award and the Latin Grammy.