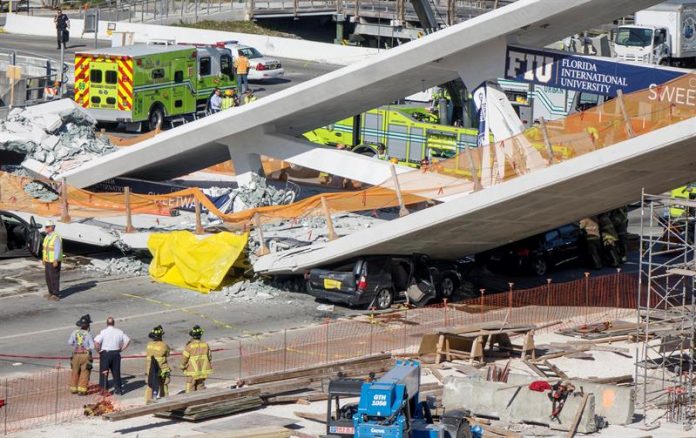 The pedestrian bridge that collapsed in Miami on March 15 had big cracks days before collapsing and killing six people, according to a preliminary report from the National Transportation Safety Board (NTSB).
As of March 10, cracks formed in the concrete between 10 and 15 centimeters (4 to 6 inches), according to documents and photos released today by the NTSB, which investigates the event.
The 53 meter prefabricated pedestrian bridge was under construction in front of the campus of the Florida International University (FIU).
The collapse of the bridge, which occurred in broad daylight, totally or partially impacted eight vehicles, seven of which were occupied, leaving one worker and five passengers dead, and eight injured.
The construction, promoted by the FIU to provide security for students who had to cross the busy Calle Ocho, used the so-called "accelerated construction" method for its realization, which seeks to reduce traffic disruption during construction.
The NTSB investigators noted earlier that on the day of the fall a team of workers was "retensioning" one of the diagonal beams that connected the structure to the end brackets facing north.
The collapse of the bridge, which would connect the university to the suburb of Sweetwater, was planned to be ready in 2019, and has caused families of the victims to file civil suits.