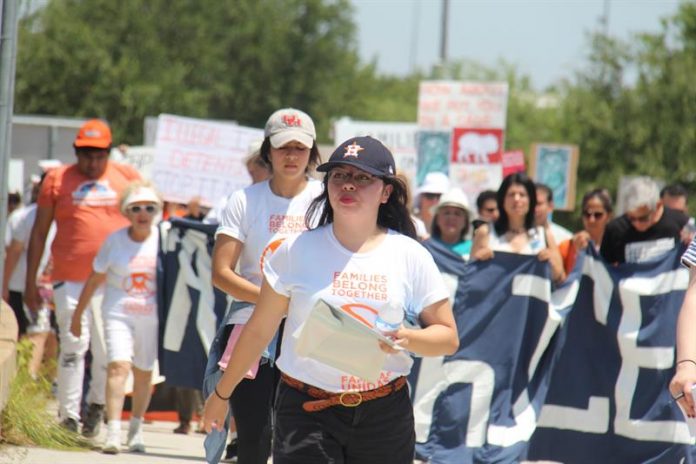 Some 200 people gathered today in downtown Houston (Texas) to demand the federal government early reunification of immigrant children detained in shelters and separated from their parents on the border with Mexico.
"The deadline for family reunification of immigrants detained in recent weeks is over and we see that the government has not complied," state congresswoman Sylvia García told Efe.
The Democratic legislator, one of the participants of the rally along with other political, community and civil leaders, alluded to the deadline given by a federal judge in San Diego, which won last Thursday, for the delivery to his parents of more than 2,500 children over 5 years, of which the Government has only managed to gather more than 1,800.
"Where are they?" Garcia asked, alluding to immigrant parents whose government has lost track and their children are still in the custody of the Government.
The demonstrators, who wore white or orange T-shirts, started the march in a park in the center of the city and then continued to the exterior of a future detention center run by the private company Southwest Key.
In June, the mayor of Houston, Sylvester Turner, expressed his dissatisfaction about the future opening of the premises that would house 240 children without their parents, as it is a "cruel method that supports the separation of families."
Hours before the march that started at the center, another group of protesters gathered near the juvenile shelter at the Shenondoah Valley Youth Center, located in Manvel, 40 miles south of Houston, to protest against alleged abuses committed in those facilities.
According to religious groups and school teachers who led the vigil and concentration, in this enclosure are lodged undocumented minors who are beaten and locked in isolation for long periods of time.
"We must show respect and solidarity with immigrants who seek asylum by fleeing poverty and crime from their places of origin with their children," said Kendall Bousquet, one of the organizers.
The protester added that the most important thing is to dignify the life, safety and health of a minor as established by international law, "and everything seems to indicate that this detention center is not happening," he said.
More than 2,500 minors were separated from their parents after being apprehended at the border with Mexico, as a result of the policy of "zero tolerance" against illegal immigration implemented by the Donald Trump Administration.
This measure, later deactivated by the president after international national criticism, motivated a federal magistrate from San Diego to order the government to reunify all the separated families.
In addition, the Center for Human Rights and Constitutional Law of Los Angeles, California, reported that in some shelters, such as the Shenondoah Valley Youth Center, undocumented minors were provided with painkillers and other medications.