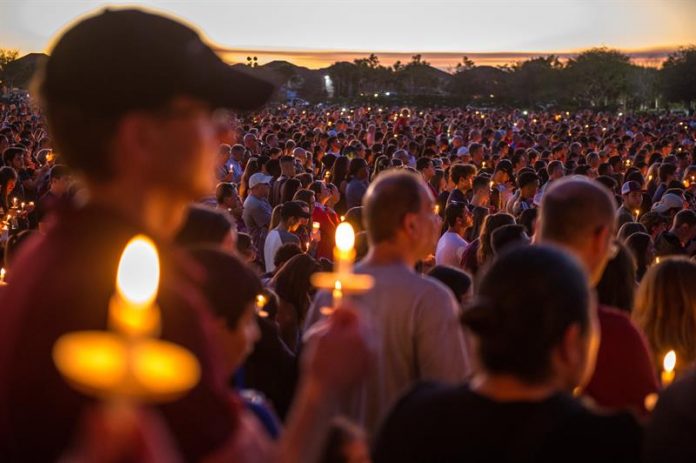 A Florida court of appeals ordered authorities to make public the surveillance video that captures the police response to the shooting that killed 17 people at a high school in Parkland, in the south of the state, reported today. local media.
The Fourth District Court of Appeals, in West Palm Beach, ordered Broward County authorities to release the taped surveillance video that captures the action of law enforcement officers during the shooting on Feb. 14 at Marjory Stoneman High School Douglas from Parkland.
The attorneys of the School Board and the District Attorney's Office of the aforementioned county had objected to making the security video public on the grounds that its disclosure put the security of the school at risk and that it was considered "information of a criminal investigation," the report said. Local 10 News channel.
The First Amendment Foundation added to the demand that had been presented by several American media for the images of the video to be disclosed.
Last April, Judge Jeffrey Levenson of Broward had ruled that statutory exemptions did not prevent disclosure and that the video revealed very little information about the school's security system.
But the School Board and the State Attorney's office appealed their decision.
After the massacre, the City of Coral Springs Police Department accused Broward Sheriff's deputies of allegedly being stationed outside the school while the shooter opened fire inside and fled then mixed among the students.
In fact, Broward Sheriff Scott Israel accused the police officer in charge of security at the institute, Scot Peterson, of acting as a "coward" at the time of the shooting that was perpetrated by Nikolas Cruz, 19, a former student of the school. center.
Peterson was suspended from his duties after video footage recorded during the massacre showed him outside the parapeted institute, without trying to enter to reduce the shooter.
However, Peterson said that he acted at all times in an appropriate manner to stay outside and that it is unfair to be branded as a coward.
The outer chambers of the Marjory Stoneman Douglas recorded the moments of terror that were lived during the attack perpetrated by Cruz, who indiscriminately fired an assault rifle against the students and teachers of the campus.
Sheriff Israel and his department have been widely criticized both for the way they handled the case and for the numerous previous warnings they received about Cruz's dangerous behavior, without any of this leading to police action.
Cruz, the self-confessed author of the killing, faces 17 counts of attempted murder last week by a Grand Jury in this county, which also charged him with 17 counts of first-degree murder.