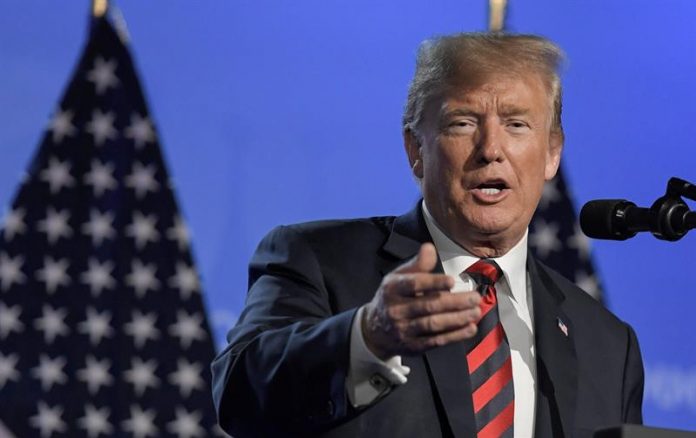 President Donald Trump said today that he will address Russia's alleged interference in the 2016 presidential elections with his Russian counterpart, Vladimir Putin, at their meeting scheduled for Monday in Helsinki, and considered that he "may deny" any involvement.
"It will be very interesting to hear what you have to say, I may deny it, all I can say is 'did you do it?' and 'do not do it again', but I may deny it, "Trump said of the alleged Russian interference at a press conference during the NATO summit.
Trump said before his arrival in Brussels that Putin could be "the easiest of all" the leaders with whom he was going to meet during these days that will happen in Europe. "You never know," he said.
The president will meet officially for the first time on Monday with Putin since he took office, and is expected to address issues such as the Syrian conflict, Ukraine, arms control and the alleged Russian interference in the 2016 elections.
That matter, about which Trump has always been skeptical, has motivated in the United States a federal investigation into the ties between its environment and Moscow.
The president also confirmed today that they will address the violations of the INF treaty against nuclear weapons and, "perhaps", Moscow's request that the allies stop the military exercises they carry out in the Baltic countries.
"Putin is competition (…) Someone said he's my enemy, he's not my enemy, he's my friend, no, I do not know him well enough, but the couple of times I've seen him we got along very well" said Trump.
"I hope we get along, I think we'll get along, but ultimately it's a competitor, it represents Russia, I represent the US In that sense, we're competitors (…) I hope we can be friends someday," he added.
Asked if he will recognize the Russian annexation of the Ukrainian Crimean peninsula, the US president said that his predecessor in office, Barack Obama, "allowed that to happen."
"That happened during his guard, not mine, would I have let it happen? No, I would not have allowed it, but he allowed it," he said.
"What will happen to Crimea from this point, I do not know, but I'm not happy about Crimea," he concluded.
After participating in the NATO summit, Trump travels to London today before concluding his European tour on Monday in Finland with the summit with Putin.