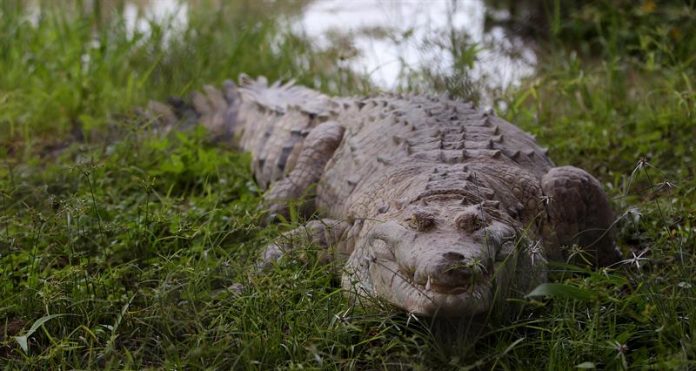 The agency that is responsible for the conservation of wildlife in Florida today reported the start-up of a toll-free telephone line to answer calls related to the abundant population of alligators in the state.
With the so-called Hot Line of Disturbances by Caimans, which has the number 866-FWC-GATOR (392-4286), the Florida Wildlife and Fish Conservation Commission (FWC) responds to the problems that can arise from the increase of the activity of these reptiles as a result of the increase of heat with the arrival of summer.
"The FWC gives public safety the highest priority," said Eric Sutton, the agency's executive director, when reporting the new telephone line.
Earlier this month, Shizuka Matsuki, a 47-year-old woman, was walking with her dogs near a lake in a park in Davie (south of the state) when an alligator caught her and dragged her along. His body was found hours later in the lake.
In June 2016, at a hotel in Orlando (central Florida), a two-year-old boy who was playing at the edge of a lagoon was caught by an alligator who took him away without his parents could do anything to prevent it and was Found dead two days later.
According to a FWC pamphlet on the interaction between humans and alligators, since 1948 there are more than 20 documented cases of death of people due to attacks of these reptiles in Florida.
"The conservation of the American alligator is a success story, Florida has a healthy and stable alligator population that is estimated at 1.3 million animals of all sizes" and is spread across the 67 counties of the state.
"They are an important part of the ecosystem, but they must be treated with care and respect," says the FWC in its publication "Tips for living with alligators."
If a person considers that an alligator he has seen poses a threat to people he can now call the toll-free number and the FWC will send one of the "trappers" he has contracted to "resolve the situation".
The state agency authorizes the capture of an alligator only if it measures more than one meter long (3.2 feet) and poses a threat to people, pets or property.
In the manual "Tips for living with alligators", the FWC emphasizes "never feed" these reptiles.
"It is dangerous and illegal," says the commission, which also recommends not to bathe in waters that are not specifically authorized for it, to always stay at a distance when an alligator is sighted and to take pets on a leash.