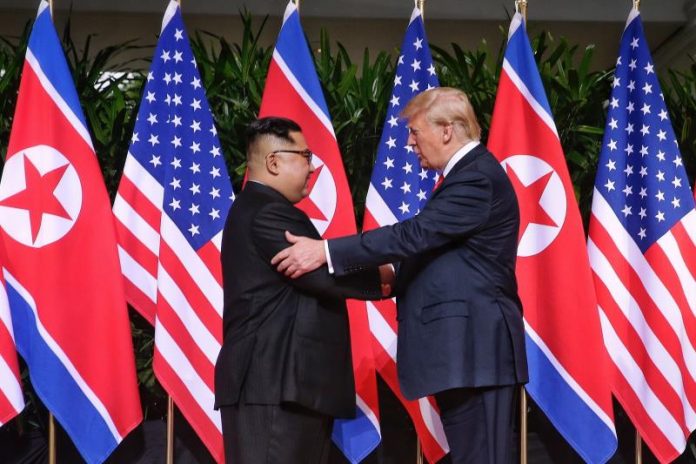 Pressing, counts the download The American president, Donald Trump, presumes to be an infallible negotiator, an expert in the art of the real estate agreement that today faced his biggest diplomatic challenge, the search for an elusive denuclearization agreement with North Korea that he wants to turn into the pearl of his legacy.
Trump saw his historic summit with the North Korean leader, Kim Jong-un, as an opportunity to certify his negotiating capacity, an attribute that he loves to talk about but has not yet been able to demonstrate tangibly
"All my life has been (negotiating) agreements, I'm great at it," Trump said today at a press conference. The document he signed with Kim does not imply new commitments from Pyongyang, but Trump presented it as the beginning of a process negotiator who is determined to emerge victorious.
"I feel very clearly, my instinct, my ability and my talent (they tell me), that (the North Koreans) want to reach an agreement," he said.
In the fifteen and a half months he has been in power, Trump has broken several international agreements and has opened tense trade negotiations with several allies of the United States, but has not been able to sign any pact that ratifies his skill in the "Art of agreement", the title of his bestselling book of 1987.
The real estate exmagnate, which will turn 72 on Thursday, has made North Korea the key player in its foreign policy, with a series of ups and downs that have kept the world in suspense since Trump came to power in January 2017.
It was the ambition to make history that led Trump to suddenly accept, last March, the proposed meeting of the North Korean leader, whom a few months earlier he had ridiculed and threatened with "fire and fury".
Trump is also motivated, according to his inner circle, by the desire to add a clear triumph to his legacy, after striving to undo the two great diplomatic achievements of his predecessor Barack Obama: the nuclear agreement with Iran and the thaw with Cuba.
Trump's impulsive and self-centered personality is marked by his career as an entrepreneur in New York, in which he "entered a room looking for the strongest person there, and went for it to show him who was in charge," Gwenda Blair, author of a biography about the president.
"He is an alpha male, he is very competitive and he has to win over everything, no matter what he has to do to achieve it," Blair told Efe last year.
Since coming to power, the Republican leader has turned upside down relations with historical allies of the United States, such as Canada and the European Union (EU), while generating, from inside, a pulse between his peculiar idiosyncrasies and the ingrained norms of the American Government system.
The mogul of unmistakable hairstyle shook the US political landscape in 2015 to announce his presidential campaign, and fulminated 16 opponents in the Republican primaries with his populist speech, before leading a bitter competition against the Democratic candidate, former Secretary of State Hillary Clinton.
As a candidate, Trump sparked global polemics by insulting Mexican immigrants, promising to build a wall on the border with Mexico and proposing a veto on the entry of Muslims into the US, which, once in power, made it a barrier to the citizens of a dozen nations.
After being elected president, despite not winning the popular vote, Trump managed to reduce funds to the health reform of 2010 and approve a tax reform with a large tax cut.
Born in 1946 in New York to a family of German descent, Donald John Trump graduated in Financial Economics and took over at the age of 28 the real estate business of his father, to later enter the casino sector, with a climb sometimes complicated and marked by debts.
Producer of the beauty pageants Miss Universe and Miss America, Trump premiered his own television show last decade, "The Apprentice" ("The Apprentice"), where several candidates competed for a job in his corporation, something that fueled his fame and boosted his presidential career.
With a personal fortune estimated at 3,100 million dollars, Trump is married to the Slovenian model Melania Knauss since 2005, with whom he has a son. Previously, he was united to the athlete Ivanna Winkerlmayr, with whom he had three children, and with the actress Marla Maples, with whom he had a daughter.