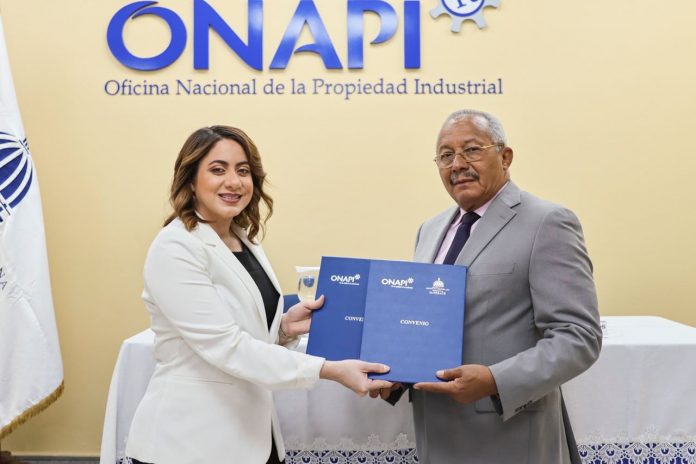 The Supérate program and the National Office of Industrial Property (Onapi) signed an inter-institutional collaboration agreement in order to process registrations of distinctive signs for micro-entrepreneurs and program participants in an agile manner and at affordable prices.
In this sense, Onapi will establish a preferential rate for its services at 50% of the value that they have established for them; and will give workshops in the different Superate Community Improvement Centers to train on formalization and Industrial Property, its implications and/or benefits.
Supérate's general director, Gloria Reyes, pointed out that with this agreement the institution takes another step towards building a culture of entrepreneurship in Supérate families. "The goal is that our producers, entrepreneurs and young people with business initiatives have training, technical support and the means to register their logos, slogans and names of brands, goods or services," she said.
Likewise, the general director of ONAPI, Salvador Ramos, celebrated the joint efforts of both entities, indicating the importance of this alliance with Supérate, which, by contributing to the development of micro-entrepreneurs, also helps to break down the barriers of the culture of poverty.
The entities will develop training sessions for the participants of the main social program of the Presidency in the communities identified at the national level, in order to strengthen the technical and productive capacities of entrepreneurs and enable them to have access to greater business opportunities, benefits and credits.
Also, registration sessions for distinctive signs such as trade names and trademarks will be organized in the regional and provincial Supérate.
Supérate will provide support in the elaboration of the methodology that Onapi will implement with the participants of the program, providing the data that allows defining specific strategies for the entrepreneurs. In addition, the lists of distinctive signs will be sent for use inspection and pre-approval in order to streamline field operations.
Supérate will also make available to Onapi the premises it owns at a national level to carry out training activities and workshops on Industrial Property.
Officials from both institutions met at the signing of the agreement, while highlighting the initiatives of President Luis Abinader to help the most dispossessed classes to develop economically, which, in turn, benefits the country.