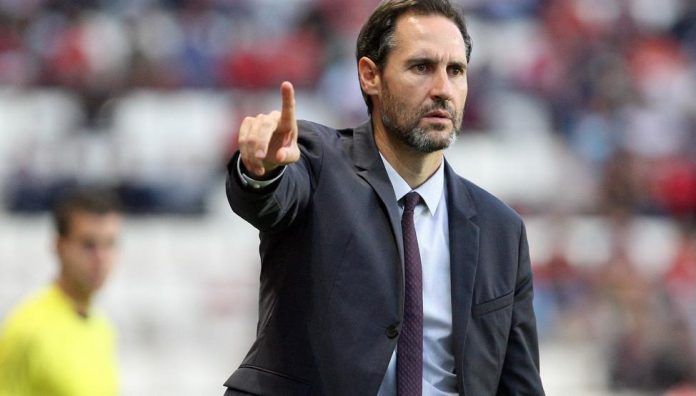 The RCD Espanyol coach, Vicente Moreno, highlighted the importance of beating Real Madrid (2-1) on the occasion of the eighth day of the League and recalled that "one does not win every day" against the white team, in addition to stating that " It was not easy "and they should continue because they have not done" anything ".
"The rival in front of us makes it magnify, we have done a great job, it makes our people very excited because it is not achieved every day, there are the statistics, but they are still three points. They are always difficult to count on. and there we have them. We have to stay the same, we have not achieved anything and we have to continue adding, we have no choice, "Moreno said at a press conference.
"The reality is that beating Real Madrid is always difficult and having that possibility is nice. You don't beat Madrid every day. I'm happy for the stage because we needed it and now let's see if we continue along this line. Fans and team together, and we push together. Because if we go together – it will not be easy – but we will have many more options to win the games, "he warned.
"Without a doubt, evidently, the greatest presence of people since I have been here has occurred today. They have had a lot to do with this victory. The attendance of the people has been noticed, they wanted to win and they have infected the team. That's where we started. To win the game, we give it a lot of value because we have not been able to achieve it for a long time, but we are down to earth because there are only three points, "said Moreno.
"We have played eight games and there are moments for everyone, the reality is what it is at that time, and we had a lack. It was necessary to win and more against a team against Real Madrid and when you get things always seem easier than usual. "They seem. But no. It has not been easy. We must congratulate this team for the triumph achieved," said the coach 'perico'.
Asked if it is the best game since he has directed the Catalan team, Moreno said "no". "It's not the best game since I've been at Espanyol, the rival's entity is what it is, but we've played other good games. Depending on what the game forces you to do, I thought we could even do better. They have generated and They have demanded of us even doing it well and in that time we had to reduce it by having more of the ball, "he analyzed.
And finally, the Espanyol coach admitted that Benzema's goal in the final stretch made them suffer. "That they mark you 2-1, in this case Benzema, you know that you are going to have to suffer and anything could go through his level," he said.
"We knew we were going to suffer, with two goals you have more peace of mind but it was not like that. If not, it would not be us, and now, to enjoy being us, to achieve things with difficulty that are also enjoyed many times, much more" , he sentenced.
"RAÚL DE TOMÁS HAS THE CAPACITY TO PLAY IN THE SELECTION"
In other questions, Vicente Moreno confirmed that he sees his footballer Raúl de Tomás trained to play with the Spanish team. "The first of all is that I am very respectful and I do not even have to comment on the calls, the list that Luis Enrique makes seems perfect to me," he said.
"Raúl de Tomás has the ability and level to play in any team and in the national team as well. It neither surprises me nor does it stop surprising that he goes, but we are talking about a player of a high level. If he proposes it there is no end, he has no ceiling. Let's see if he continues along that line and gives us many joys this season, "he concluded.