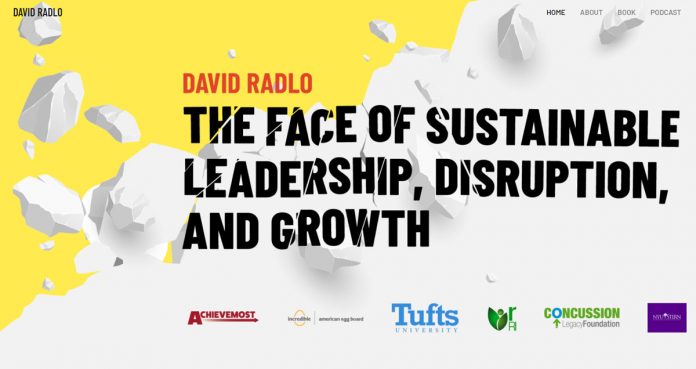 The COVID-19 pandemic curtailed some businesses' ability to contribute to charitable causes. The crisis affected the bottom lines of U.S. small businesses in particular, many of them on a modest budget to begin with, preventing some of them from being philanthropic or as giving as they would like.
But there are ways to give back to the community and help those in need without breaking the bank, and those efforts are highly important at a challenging time in our history, says David Radlo (www.davidradlo.com), best-selling author of Principles of Cartel Disruption: Accelerate and Maximize Performance and an internationally-recognized expert in leadership, growth and innovation.
"As a leader or team member, it's great to give back in a proactive, meaningful way to improve the world," he says. "It combines the ideal use of people, process, and strategy towards transforming sustainably for a new and better world."
"You can help make the world a better place by first examining how you can contribute based on your skill set. You don't have to dish out millions to be of service. You have skills and other resources that people need. The key is having leadership and management walk the talk by making it a priority and part of the culture to give back with time, talents, and contacts in a systematic way."
Radlo suggests ways companies can give back in impactful ways that don't involve money:
Offer pro bono services or discounted products. One way for employees or business leaders can lift the disadvantaged is to offer their expertise or services at no charge, or provide products at a discount. "Whether they donate time to mentor, teach new job skills, or provide free services, they are helping people who otherwise might not have gotten the assistance they need," Radlo says. "That's making a real impact on people."
Hold volunteer days. "A company that truly wants to make giving back part of their DNA and their brand recognition needs to devote company time to those causes," Radlo says. "Consistency reveals sincerity to the public. An entire company or large representation of it showing up to help a community cause has a lasting impact, as long as it's not a one-off." Radlo also thinks it's a positive for the work culture if the company offers employees paid time off for volunteerism. "If you're going to present giving back as a highly-valued part of your business," Radlo says, "then you need to show how important it is to everyone employed by you."
Organize office drives. An effective way to give back without giving up many hours on the job is generating an employee-run drive to collect food and clothes donations. "You need good organizational skills to plan and implement the steps to make it happen," Radlo says. "You build a team in which you have people sorting donations, getting the word out on social media and making the distributions. Small businesses build tight bonds with the communities they serve, and community-focused drives strengthen those connections."
Share your network of contacts. Radlo says a successful professional's well-constructed network can be a treasure trove for meeting others' needs – by putting them in touch with your key contacts. "Most people view networking as a means toward their own personal gain – ways to increase their contacts and opportunities for career growth," Radlo says. "But it offers a quick pipeline to solutions to a variety of needs. You know people with different specialties and you can be the facilitator, bringing a struggling person or group together with your contacts and making a difference."
"Giving back in time, talents, and contacts is crucial to sustainably transforming the world," Radlo says. "There are many areas where you can make a difference, so get in the game."
About David Radlo
David Radlo (www.davidradlo.com), best-selling author of Principles of Cartel Disruption: Accelerate and Maximize Performance, is an internationally-recognized expert in leadership, growth and innovation. He is a partner with RB Markets-Achievemost, a Masters professional outside director, a growth coach, and an International Fortune 500 speaker. He is experienced in the U.S. and globally, building sustainable consumer food brands such as Born Free, Farmer's Best, and Egg-Land's Best, and has personally negotiated agreements with Fidel Castro. He works with senior executives, venture firms, private, public, family, and college entities. His accomplishments in his 28 years as a CEO include delivering a six-fold increase in earnings before interest, taxes, depreciation, and amortization (EBITDA), and a 30-fold increase in enterprise value. He is a graduate of Tufts University and NYU's Stern School of Business.