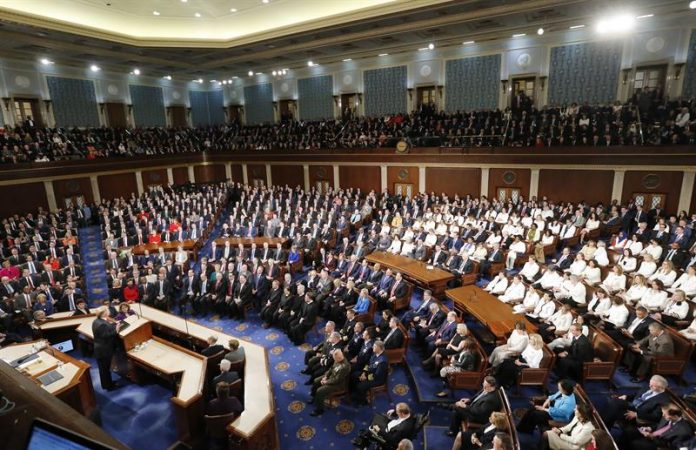 Washington, .- The House of Representatives approved on Monday a bill to "mitigate the Venezuelan-Russian threat" and two others to limit the access of the Government of Nicolás Maduro to non-lethal weapons and to increase "humanitarian aid" to Venezuela .

The three projects were promoted by Democratic congressmen from the state of Florida and all three were approved unanimously in the lower house.
The project on the so-called "Russian-Venezuelan threat" urges the State Department to study and present to Congress measures to limit the military influence of the Kremlin in Venezuela.

The vote coincided with the arrival this weekend in Caracas of two Russian military aircraft. According to local media, on board the aircraft were about a hundred soldiers and tons of unidentified equipment.
The promoter of the project, Debbie Wasserman Schultz, who led the Democratic Party between 2011 and 2016 and resigned splashed by a scandal to try to harm Bernie Sanders during the primaries to the White House, echoed on Twitter of the arrival of Russian military to Venezuela.
Another of the bills passed in the lower house prohibits the sale to the Venezuelan government of tear gas, rubber balls or other riot gear.
The project expands the ban on the sale of weapons that rules the United States. about Venezuela since 2006.
"With the approval of the Armament Restriction Law to Venezuela, we are one step closer to ensuring that weapons originating in the United States are not used to silence dissent," said her promoter, Rep. Donna Shalala, also a Democrat from Florida. .
Finally, the House of Representatives approved a plan to allocate 150 million dollars in humanitarian aid to Venezuela between 2020 and 2021.
Its promoter, Congresswoman Debbie Mucarsel-Powell, said the plan "will alleviate the pain of the Venezuelan people by providing humanitarian assistance in accordance with international humanitarian principles for those within the country and in the region."
Although some Democratic congressmen have been critical of the recognition of Trump's government and the leadership of his party to opposition leader Juan Guaidó as legitimate president of Venezuela, the three projects, now passed to the Senate, were approved unanimously. (EFEUSA)