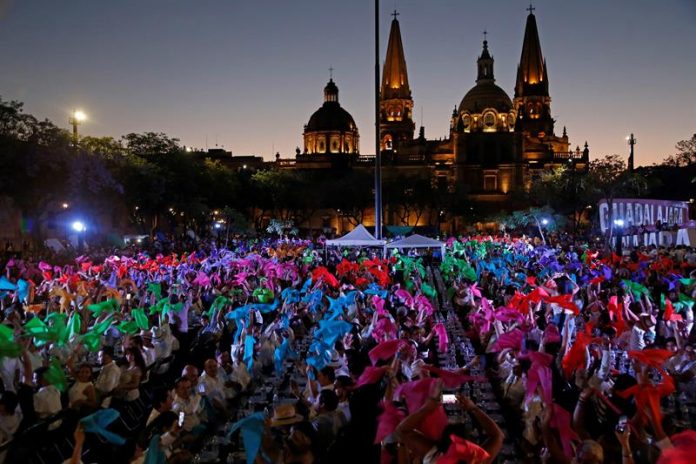 Guadalajara (Mexico), .- The city of Guadalajara, in the western Mexican state of Jalisco broke this Sunday the Guinness Record to the largest tasting of tequila in the world by bringing together 1,486 people who tasted the Mexican drink at the same time.
Natalia Ramírez, official adjudicator of the Guinness Record organization said that although there were 60 people who did not complete the tasting – and therefore were not counted – the tapatíos did achieve the mark and obtained this recognition.
Francisco Javier Soltero, vice president of the tequila industry, said that tequila is Jalisco's gift to the world and this record represents Mexicanness.
With this act, which took place in the background Guadalajara Cathedral and the Degollado Theater, the inhabitants of this important city collapsed the mark achieved just a day earlier in the state Quintana Roo (southeast of Mexico) that brought together 1,448 people making the tasting
The participants began to arrive at the Plaza Liberación, in the heart of the city, when the sun was falling and they had to wait a little over an hour, because the organizers could not complete the minimum number of attendees.
Guided by master taster Jaime Villalobos, the attendees made use of their sight, smell and mouth to taste this beverage extracted from the Mexican agave plant.
With patience, they knew the characteristics of smell and flavor of three types of tequila: white, reposado and añejo.
And they ingested it from the special glasses that were prepared next to some cookies and natural water, which served to neutralize the taste buds.
As if it were an outdoor party, the tasters applauded and shouted when they finished tasting each cup.
And after 15 seconds of enjoying the drink, they shouted a loud "cheers!"
With joy and singing the well-known song of "Cielito Lindo", the attendees celebrated this community achievement.
"We made it, we made it!" The attendees shouted as they waved their colored handkerchiefs and raised their glasses.
The music of the mariachi ended this record that endorses Jalisco as the birthplace of tequila. (EFE)