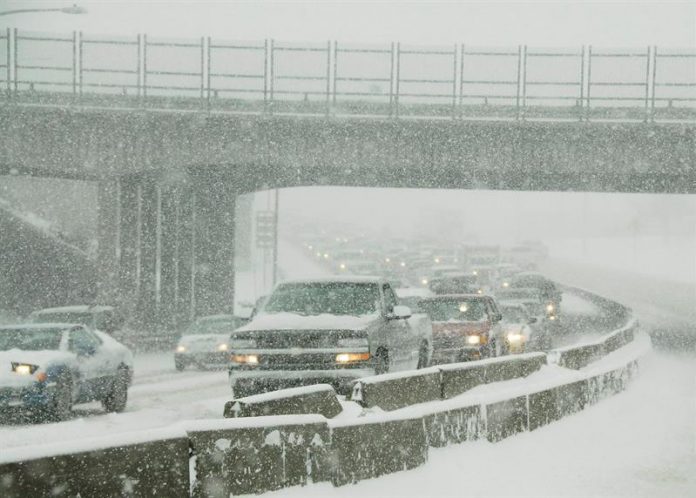 Denver (CO),) .- The Colorado Department of Transportation (CDOT) announced Wednesday the closure of all state roads in the face of deteriorating weather conditions in the state, as a result of the so-called "cyclonic bomb", which He took a life.
"All the roads that cross the state, from north to south and from east to west (…) are closed and will remain closed until the CDOT staff can reopen them," said Tamera Rollinson, CDOT spokesperson, at a conference of press.
According to the National Meteorological Service (NWS) of the USA, the so-called "Cyclonic Pump", a combination of low pressure, cold and humid air, snow and strong winds, has caused gusts of up to 130 kilometers per hour in the International Airport area. Denver (DIA), which is equivalent to a category 3 hurricane, and forced the cancellation of 1,300 flights.
"Safety is the top priority for the entire airport community," said Kim Day, DIA president, in a statement, indicating that a plan has been implemented, in cooperation with local businesses "to respond to the needs of the residents. passengers "who until now can not leave these facilities.
The Colorado State Patrol reported the death Wednesday of agent Daniel Groves, 52, who was out of his patrol car when he was hit by a vehicle that lost control on Interstate 76, which because of snow and the strong winds remain closed.
The Regional Transportation District (RTD) announced the cancellation of its services, since the snow does not allow the circulation of buses or trains.
The authorities of Denver, the capital of the state, have announced that at least 200,000 people lack electricity in the area west of this city.
Also, the schools of the metropolitan area of ​​Denver will remain closed the day of Thursday, informed the authorities.
"The message is clear: do not go outside, stay in the house," Rollinson said, noting that 100 simultaneous snow removal trucks have not been able to clean the streets because "the wind is very strong, snow is too much and visibility is zero. "
So far no deaths or injuries have been reported, but, yes, "a serious accident involving numerous vehicles" on Highway I-25 in northern Colorado, according to CDOT. (EFEUSA