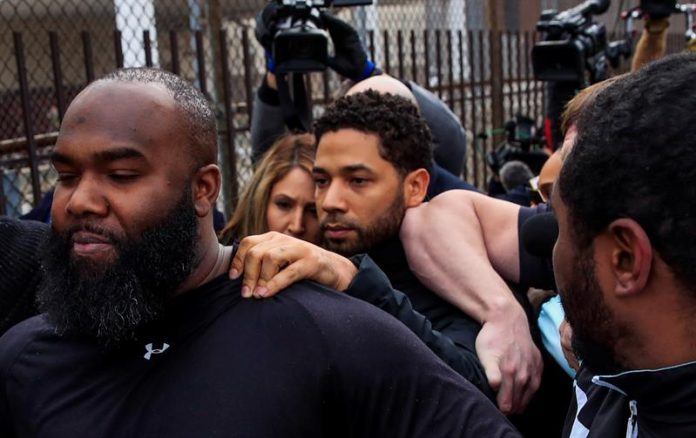 Chicago (IL), .- The American actor Jussie Smollett, one of the protagonists of the television series "Empire", was declared this Thursday not guilty of charges of having lied to the police about a supposed racist and homophobic attack that would have been a victim in Chicago.
Smollett returned to the criminal court for a brief hearing where he was read the 16 charges presented by a grand jury last week, one for each time he lied to detectives investigating the alleged hate crime.
The declaration of innocence was made by one of his lawyers, while the actor, aged 36, limited himself to answering questions from Judge Steven Watkins, in charge of the case.
At the hearing, the judge approved an order from Smollett, who is on bail, to meet with attorneys in New York and California, provided he notifies the court 48 hours in advance.
In view, television cameras were allowed access, although they did not broadcast live at the request of the defense lawyers, who argued that there was a presumed existence of misinformation about the case and the need to avoid leaks to the press.
Smollett, who must appear before the judge on April 17, arrived early at the court and was greeted by several fans with posters that read "I support Jussie" and "I believe in Jussie Smollett."
The actor reported to the police that he had been attacked in the early hours of January 29 by two men who shouted racial and homophobic insults, hit him in the face, sprayed him with a chemical and wound a rope around his neck.
He also told investigators that the attackers shouted that the US it is "a MAGA country", in reference to the campaign slogan of the president, Donald Trump, "Make America Great Again".
The Chicago superintendent of police reported that the investigation revealed that Smollett paid two brothers to feign the attack, in an alleged maneuver to draw attention to the actor and get the producers of the series to increase their salary.
However, after his arrest and the filing of charges that could take him to jail for a minimum of three years, the producers removed Smollett from the final two episodes of the season of the series. (EFEUSA)