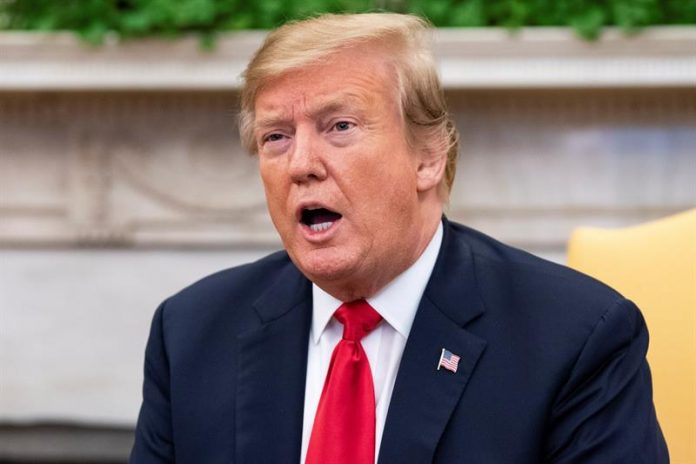 Washington, DC – President Donald Trump called today "disappointing" that North Korea is rebuilding a missile base that had begun to dismantle in 2018, and predicted that in "about a year" will know if it can bear fruit his effort to dialogue with the North Korean leader, Kim Jong-un.
"It's disappointing," Trump said when asked by a reporter if he is disappointed with Kim because of new signs of nuclear activity in North Korea.
"We'll see, we'll let you know (what happens) in about a year," added Trump, who appeared before the press at the beginning of a bilateral meeting with Czech Prime Minister Andrej Babis in the Oval Office.
Trump reacted like this to the satellite photos that came out on Wednesday and show that at the base of Sohae (northwest of North Korea) have begun to restore structures on the launch pad and the vertical test bench for missile engines.
The 38north website, part of the Stimson research center, and the Center for Strategic and International Studies (CSIS), both based in Washington, proved in their analyzes of the images that the test bench has been partially reconstructed and that around it you can see cranes, vehicles and various supplies.
North Korea began to dismantle these two key facilities of Sohae last July, after the first summit between Trump and Kim, which was interpreted as a gesture that showed the willingness of Pyongyang to move towards denuclearization.
Although the exact date on which these new reconstruction works began is unknown, its circulation came days after the second summit between Trump and Kim ended abruptly in Hanoi, without the signing of the joint declaration that both parties had negotiated.
The authorities attributed the failure of the summit to North Korea's alleged demand that all US sanctions be lifted in exchange for advances in denuclearization, while Pyongyang contradicted Trump and said he had only asked for partial relief.
However, both parties have said they are in favor of keeping the dialogue open in order to try to approach positions and reach some kind of agreement in the future.
"The president is obviously open to talking again (with Kim), we'll see when that can be scheduled or how it will work," Trump National Security Advisor John Bolton told Fox News today. It is "soon" to examine the impact of the new North Korean missile activity. (EFEUSA)