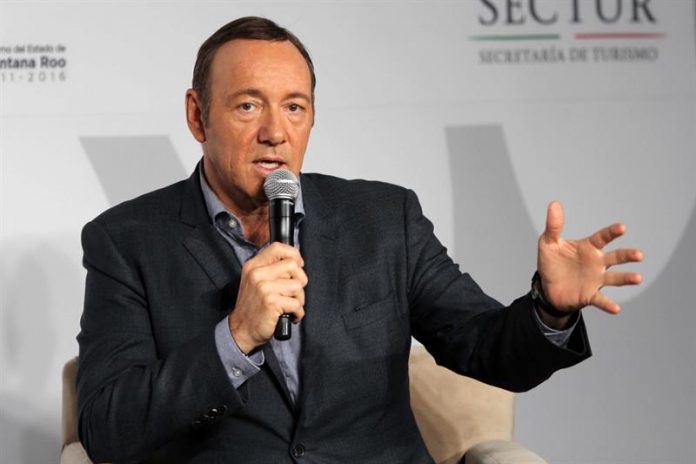 Washington – A Nantucket district judge ordered Monday to expand phone records that will be preserved in the trial of actor Kevin Spacey, accused of having sexually assaulted an 18-year-old boy in a bar in that town in Massachusetts. , in the northeast of the country.
In a preliminary hearing, which was not attended by the 59-year-old actor, Judge Thomas S. Barret accepted a request from the defense to safeguard the telephone and electronic data between the plaintiff and his ex-girlfriend.
The young man published a recording of part of the alleged sexual contact of Spacey on the Snapchat social network and sent his girlfriend the video, which was then verified by the authorities.
Last week, Spacey lawyers requested that the plaintiff provide his mobile phone records between the months of July 2016 and December 2017, claiming that during that period both parties exchanged various messages and images that could be key to the result of process.
Last January, Barret had ordered the preservation of telephone records between July 7, 2016 and January 7, 2017, but this Monday he extended the range until December 31, 2017, according to The Boston Globe newspaper.
Spacey is expected to plead not guilty to the charge of sexual assault, after his lawyers filed legal documents in December in that county's courtroom announcing that the actor would not accept the guilt.
The alleged case of sexual assault dates back to July 2016, when one of the waiters of Club Car, a Nantucket bar, suffered an alleged sexual assault by the famous actor.
According to the young man's complaint, he himself lied about his age, saying he was 23 years old, and started talking to Spacey in a friendly way.
The waiter explained to the local police that Spacey bought him several alcoholic beverages -the minimum age for drinking alcohol is 21 years old-, told him about the size of his penis and insisted several times so that the young man went to the actor's house.
Later, Spacey allegedly stroked the thigh of the 18-year-old waiter and unbuttoned his pants, rubbing his penis for about three minutes, according to the accusation.
Winner of two Oscars for "The Usual Suspects" (1995) and "American Beauty" (1999) and considered one of the best interpreters of his generation, Spacey's career collapsed due to the seriousness of the accusations against him, which They include dozens of complaints of harassment and sexual abuse. (EFEUSA)