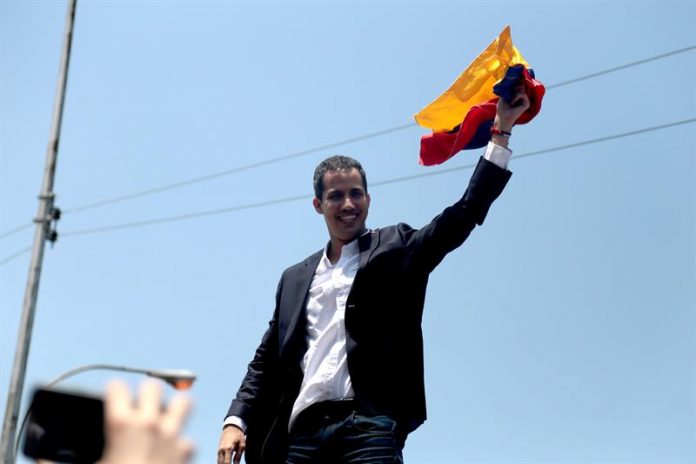 Washington, DC – Vice President Mike Pence said Monday that "any threat, violence or intimidation" against Venezuelan opposition leader Juan Guaidó, who returned to Caracas this morning after an international tour, "will not be tolerated."
"The smooth return of Juan Guaidó to the country is of the utmost importance to the US. Any threat, violence or intimidation against him will not be tolerated and will be responded to quickly," Pence said on his Twitter account.
The vice president remarked that "the world is watching, the interim president Guaidó must be allowed to return safely to Venezuela."
Pence's words coincided with the landing of Guaidó at Simón Bolívar International Airport, which serves Caracas, and where he was received by supporters and by the ambassadors of Spain, France, Germany, Portugal, Chile and the United States Chargé d'Affaires. .
In a statement, Secretary of State, Mike Pompeo, celebrated the return to Venezuela of Guaidó, who on January 23 invoked articles of the Constitution to defend that, as president of the National Assembly (AN, Parliament), he could declare himself president interim of the country.
"The US and all the nations that love freedom in the world are on the side of interim President Guaidó, the National Assembly, and all democratic forces as they work to establish the free and fair elections that will bring democracy back to Venezuela, "said Pompeo.
"Also," he added, "we welcome the news about Venezuelan military personnel and security services that do the right thing and recognize interim president Guaidó."
Guadió kept secret the details of his return to Venezuela because he faces the possibility of being imprisoned for having circumvented a ban on leaving the national territory that was handed down by the Justice, which only recognizes Nicolás Maduro as agent.
So far neither the Prosecutor's Office, nor the Supreme Court, nor any of the top leaders of the so-called Bolivarian Revolution have spoken out about the return of Guaidó, but his closest circle considers that the threat of detention is "real".
Guaidó, who began a tour of several South American countries on February 22, announced on Sunday that he was returning to Venezuela and called for rallies across the country to support his return.
Venezuela has been in a situation of political instability since January 10, when Maduro returned to take office as president after winning last May's elections, which were not recognized by the international community and by the opposition. (EFEUSA)