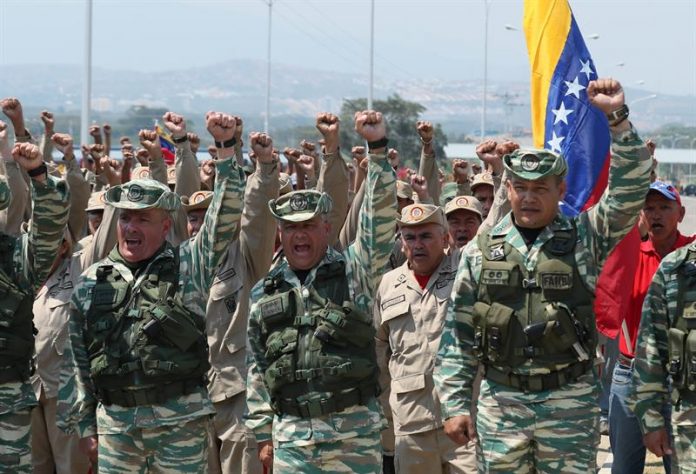 US President Donald Trump will warn the military in Venezuela on Monday that they will lose "everything they have" if they do not break with Venezuelan President Nicolás Maduro, and will argue that the president's fall would help " promote democracy in Nicaragua and Cuba. "
The White House spokeswoman, Sarah Sanders, advanced some points of the speech that Trump will give at 16.00 local time (21.00 GMT) at the International University of Florida, just outside of Miami.
Trump will ensure that "the current path towards democracy is irreversible," and that "the Venezuelan military has a clear decision to make: work for democracy for their future and that of their families, or else they will lose everything they have" Sanders said in a statement.
The president will warn that the US "He knows where the money is hidden, all over the world, the military (Venezuelans) and their families," so they "should listen to President (Juan) Guaidó and allow humanitarian aid to enter Venezuela," he added.
Trump recognized almost a month ago as the legitimate president of Venezuela the opposition leader Juan Guaidó, and will use his speech to reaffirm that support, five days before the date scheduled by the opposition for the entrance into the Caribbean country of the humanitarian aid provided by EE .US. on the border with Colombia.
In addition, Trump will affirm that "Venezuela should not be a puppet state of Cuba," according to Sanders.
"The successful peaceful transition to democracy in Venezuela will help promote democracy in Nicaragua and Cuba, and we have created a path for the first fully democratic hemisphere in human history," said the spokeswoman, advancing the key ideas of the speech.
Trump's national security adviser, John Bolton, described last November as a "troika of tyranny" to the supposed axis formed by the governments of Venezuela, Cuba and Nicaragua, and promised that this "triangle of terror" will "crumble" . (EFEUSA) .-