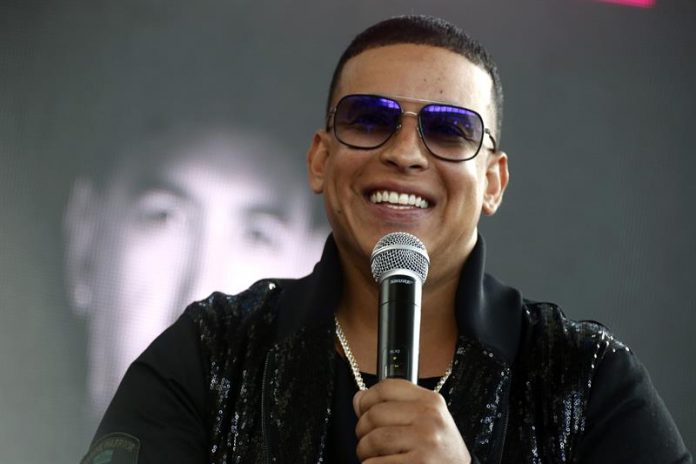 The Puerto Rican Daddy Yankee will receive a special award for his career and 15 years after the publication of his foundational album "Barrio Fino" at the upcoming Lo Nuestro Awards, Univision reported Thursday.
The Puerto Rican will take the stage of the American Airlines Arena in Miami, venue of the award on February 21, to headline a special musical to mark the anniversary of the album, which will also include Yandel, Zion & Lennox, J Balvin, De La Ghetto and Ozuna.
The album, published in 2004, contains among others the songs "Lo que pasó, pasó", "Rompe" and "Gasolina", the latter "the first reggaetón song in Spanish to conquer the American market", according to Univisión, the chain that organizes and delivers the popular vote awards.
At the gala, Yankee will also sing, for the first time on television, his most recent single, "Con Calma", which premiered last January and has more than 110 million views on YouTube.
Univision confirmed that the Spanish Alejandro Sanz will be another of those participating in the gala, in which he will sing "Back In The City", the single he published on February 8, in collaboration with Nicky Jam, and will also have its premiere in American television.
The Spanish artist, who was already recognized with the Award of Excellence at the 2013 ceremony, is scheduled to publish "#ElDisco", his next studio album and the first single "No Tengo Nada" was released last November. "
During the Lo Nuestro Awards gala, in which the Dominican Natti Natasha leaves as a favorite by accumulating 15 nominations, the artists Pepe Aguilar, Anitta, Farruko and Prince Royce "will reinvent some of their greatest successes or their new releases", according to Univision, in a block that has the hand of musical producer Sergio George.
The Colombian J. Balvin and the Puerto Rican Bad Bunny, with 12 each, are the other artists that head the nominations to the Lo Nuestro Awards, which this year included new categories as social artist of the year and extended to ten the nominees for best video and tour of the year.
Similarly, for the ceremony on February 21, Univision chose not to include the disc category of the year, a reflection of the current trend of the music industry to prefer the release of singles without the need for an album that encompasses them.
The selection of the nominees for Premio Lo Nuestro is based on the 1,000 songs that most played on Uforia Radio stations, belonging to Univisión, between January 1 to October 31, 2018, except Video of the Year categories, Tour of the Year and Social Artist of the Year.
The winners come from a public vote made on the Univision website between January 8 and 22, in the United States and Puerto Rico. (EFEUSA) .-