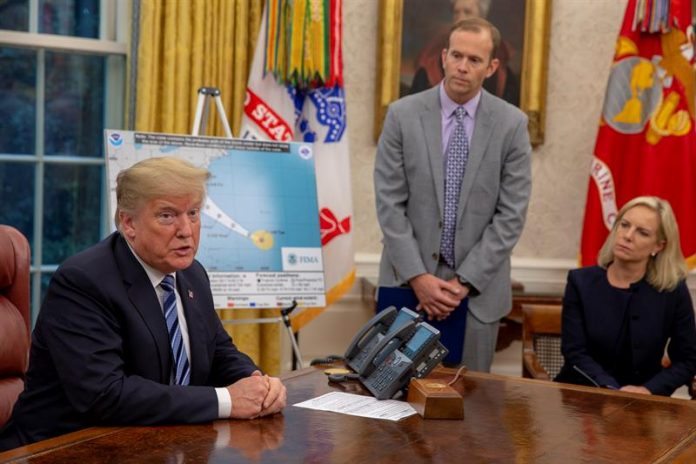 The current administrator of the Federal Emergency Management Agency (FEMA) of the United States, Brock Long, today announced his resignation.
As administrator of FEMA, Long was in charge of the management of the catastrophic hurricane season of 2017 that hit Texas and Florida with the cyclones Irma and Harvey, as well as María that devastated Puerto Rico, leaving 3,000 dead in its wake and much of it of the island without water or electricity for months.
"It has been a great honor to serve our country as a FEMA administrator for the past two years, during which time the agency has worked on more than 220 declared disasters," Long said in a statement. March.
Long was investigated in September of last year for the use of official vehicles for personal purposes.
The internal investigation, led by the Office of the Inspector General of the Department of Homeland Security, concluded that Long used FEMA vehicles and drivers to travel from Washington to his North Carolina residence on weekends.
US media then reported that National Security Secretary Kirstjen Nielsen had weighed Long's resignation, but finally said the FEMA administrator would return the money from his personal transfers.
Long's case coincided with that of other Donald Trump government officials questioned about his use of public resources for personal purposes, such as the then Secretary of the Interior, Ryan Zinke, who resigned in January, and the former administrator of the Protection Agency. Environmental (EPA) Scott Pruitt, resigned in July 2018.
He will take over FEMA's interim form until now number two from Long, Peter Gaynor.
After the announcement of his resignation, the governor of Puerto Rico, Ricardo Rosselló, said that it "offers a restart opportunity for a more effective collaboration" between the island and FEMA.
"We hope that the struggles of the past 18 months can be transformed into the execution we need, it is time to treat Puerto Rico exactly." (EFEUSA) .-