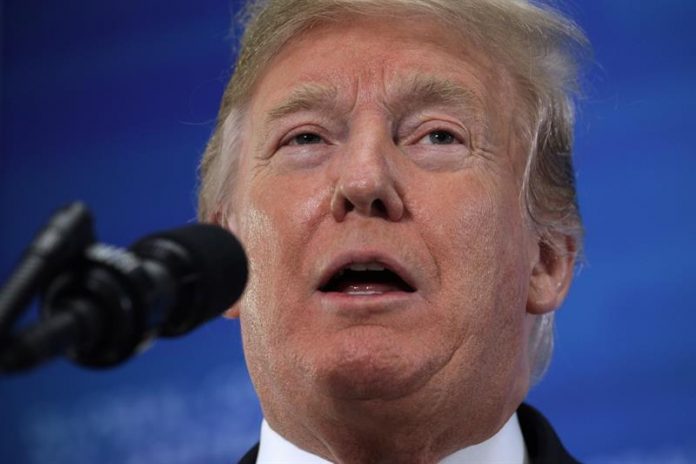 President Donald Trump said today that Iranians "deserve a much brighter future" on the occasion of the 40th anniversary of the victory of the Islamic Revolution, which he described as a period of "corruption, repression and terror" in the history of the country. Persian.
"40 Years of Corruption, 40 Years of Repression, 40 Years of Terror, The Iranian Regime Has Only Produced # 40 Years of Failure, The Iranian people, who have suffered so much, deserve a much brighter future," Trump wrote in his official account. Twitter
The president published the same text in English and Farsi, in separate tweets accompanied by images that reproduce that message in capital letters, next to the photograph of a woman with her fist raised and her hair and part of her face covered by a veil.
Trump's tweets came three hours after his national security adviser, John Bolton, published a similar message on the same subject.
"It's been 40 years of failure, now it's up to the Iranian regime to change its behavior, and ultimately it's up to the Iranian people to determine the direction of their country," Bolton wrote in his official Twitter account.
"The United States will support the will of the Iranian people and support them to ensure that their voices are heard," he added.
Hundreds of thousands of Iranians left the streets of their country on Monday to demonstrate national unity and support for the theocratic system, on the 40th anniversary of the victory of the Islamic Revolution.
"Death to the USA" it was, as usual, the most coined motto by the attendees, mostly from the conservative sectors of the country, who criticized the sanctions imposed last year by Washington against Tehran after withdrawing from the 2015 multilateral nuclear agreement.
In a speech before the crowd, Iranian President Hasan Rohani said Iran will continue to develop its arms programs, including its missiles, a source of concern for the US, Europe and regional countries such as Saudi Arabia and Israel.
Last week, Secretary of State, Mike Pompeo, condemned that Iran is producing in a subterranean factory a new ballistic missile called Dezful, as confirmed by the Body of the Guardians of the Revolution of the Islamic Republic.
"We must face Iran's flagrant disregard for international standards, we must re-impose tougher international restrictions to dissuade Iran from continuing with its missile program," Pompeo called in a statement.