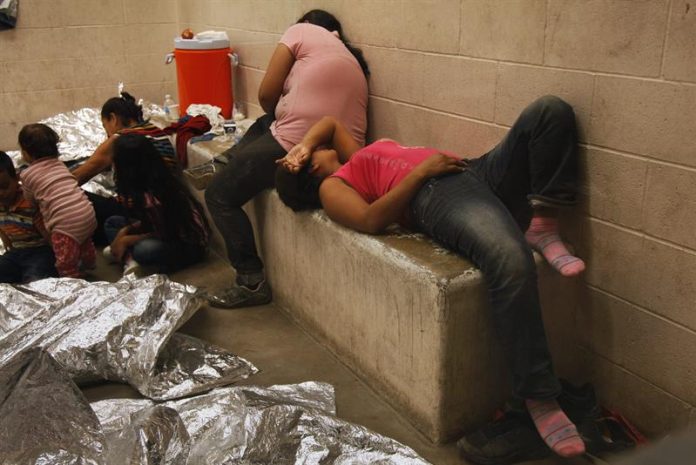 A group of mothers who were separated from their children on the border with Mexico last year denounced the treatment of the president's government, Donald Trump, and the trauma they suffer as a result of the application of the policy of "zero tolerance" in the border
"While we were separated, I could not eat or sleep, I had nightmares, I lost a lot of weight, headaches and I began to lose my hair." It was torture, the Guatemalan writer Leticia, a 25-year-old mother, argued in a telephone press conference. She was separated from her 5 year old daughter over four months.
Leticia explained that she made the decision to leave Guatemala with her daughter after receiving two death threats from a street gang.
"We came to the US seeking refuge from the violence in our country, but instead of offering security, the US government tormented me and my daughter," she said.
Leticia is part of a group of six immigrant families that today filed an individual claim against the Trump Administration under the Federal Tort Claims Act (FTCA) with the help of the American Immigration Council.
After being reunited four months after being separated, Leticia noticed that her daughter was "different" and "had many nightmares."
"I wake up with her screams of 'mama, mama' while she is sleeping, if she does something wrong today or something falls to the ground, she cries and begs me not to hit her, I do not know where this fear comes from, because I never I stuck it, "he continued.
Among the families that are part of the lawsuit is the Guatemalan Elena, 35, who was removed from her 12-year-old son in March 2018, after crossing the border in the state of Arizona.
According to the court complaint, Elena and her son Luis had to leave Guatemala after a street group threatened both of them with death if the child did not join them.
Elena and Luis spent two days with twenty more people in a "cooler," a room with very low temperatures in which the Border Patrol (CBP) keeps detained immigrants who have just arrested.
Both reported that they only received a cold soup to eat and that there were no beds to sleep on.
On the second day, the authorities removed Luis from the "cooler" and took him to a detention center in New York, more than 4,000 kilometers away from his mother.
According to her story, Elena and Luis were separated for 77 days.
In these situations, the deputy director of the National Immigration Justice Center, Mark Fleming, pointed out that the lawsuit against the Department of Homeland Security (DHS) and the Department of Health and Human Services (DHHS) English) "seeks 3 million dollars for each mother and child" for the damages caused.
"Trump implemented this policy to intentionally cause harm and fear in these families, and it succeeded, with devastating consequences," adds Fleming.
The cases of Elena and Leticia are two of the six that the United States Immigration Council denounced today, an organization that fights for the rights of immigrants in the country.
Measures known as "zero tolerance", applied by the Trump government last May, sent parents into criminal custody and children to shelters financed with federal funds overseen by DHHS.
The plan then meant the separation of almost 3,000 families, according to official data. (EFEUSA) .-