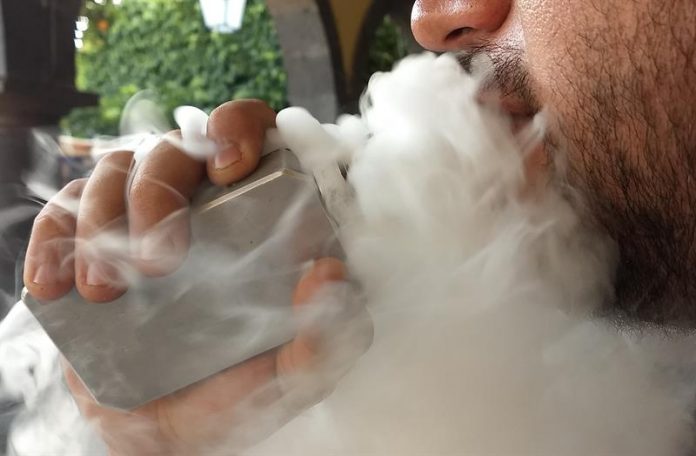 Nearly five million adolescents consume tobacco products, especially electronic cigarettes, in the United States, an increasing number and with epidemic tints, according to a report from the Centers for Disease Control and Prevention (CDC) released today.
"The dramatic increase in the use of electronic cigarettes among young people over the past year threatens to end the progress made in reducing tobacco use among young people," said Robert Redfield, director of the CDC, at a conference press.
In the opinion of Redfield. "This trend is putting a new generation of people at risk of nicotine addiction."
The report found that in 2018 at least 4.9 million young people regularly consumed tobacco products, while in 2017 they were 3.6 million.
The vast majority (4.04 million) of consumers in 2018 were enrolled in upper secondary schools (high school) and 840,000 in middle school (middle school).
The study found that more than 1 in 4 high school students and approximately 1 in 14 middle school students had consumed a product derived from tobacco in the past 30 days.
After analyzing the latest figures, the researchers found that the consumption of tobacco products increased by 38.3% among high school students during the period of 2017 and 2018, an increase that contrasts with what happened in previous years and which they claim was driven mainly for a greater use of electronic cigarettes.
"Despite this disturbing trend, we already know what works and we have a duty to continue using proven strategies to protect young Americans at risk from this preventable health problem," Redfield said.
The research found that the use of electronic cigarettes went from 11.7% to 20.8% among high school students, and from 3.3% to 4.9% among high school students in 2017 and 2018.
The other tobacco products, including cigarettes, did not register a significant change during this period, according to the report.
Authorities expressed concern over the increased use of electronic cigarettes, which is the most commonly used or used tobacco product, and which is more common among men, white people and upper secondary students, they warned.
"We fear that this trend will continue in 2019 and that is why we are forced to make difficult decisions regarding the regulation of electronic cigarettes," Scott Gottlieb, commissioner of the Federal Food and Drug Administration (FDA), told the press conference. .
Electronic cigarettes (20.8%) were the tobacco product most used by high school students in 2018, followed by traditional cigarettes (8.1%), cigars (7.6%), smokeless tobacco (5 , 9%), narghile (4.1%) and tobacco pipes (1.1%).
The consumption of tobacco products among students was higher among men than women, and when analyzed by ethnic groups, whites constituted the group with the highest percentage of consumers (32.4%), followed by Hispanics (21, 7%) and African-Americans (17.4%).
According to the report, JUUL is currently the best-selling electronic cigarette in the United States among young people, in large part because it resembles a USB stick and is easy to hide and use in schools.
This device uses cartridges or loads of liquid nicotine called capsules, which come in attractive flavors for children and contain as much nicotine as a pack of cigarettes.
In addition to JUUL, other electronic cigarettes commonly used are those of the brands Vuse, MarkTen XL, Blu and Logic.
The Federal Food and Drug Administration (FDA) recently called the use of e-cigarettes among teenagers in the United States an "epidemic proportion".
The CDC recommends taking additional measures to limit nicotine use among young people and prevent them from becoming addicted to it.
For this, they ask the federal authorities to increase the minimum age for the purchase of tobacco products to 21 years and to prohibit the sale of tobacco products with attractive flavors for minors.
In addition, health authorities recommend schools to be stricter in guaranteeing a tobacco-free campus, which includes electronic cigarettes.
Tobacco use is the leading cause of diseases and deaths that can be prevented in the United States, according to the CDC.
(EFEUSA) .-