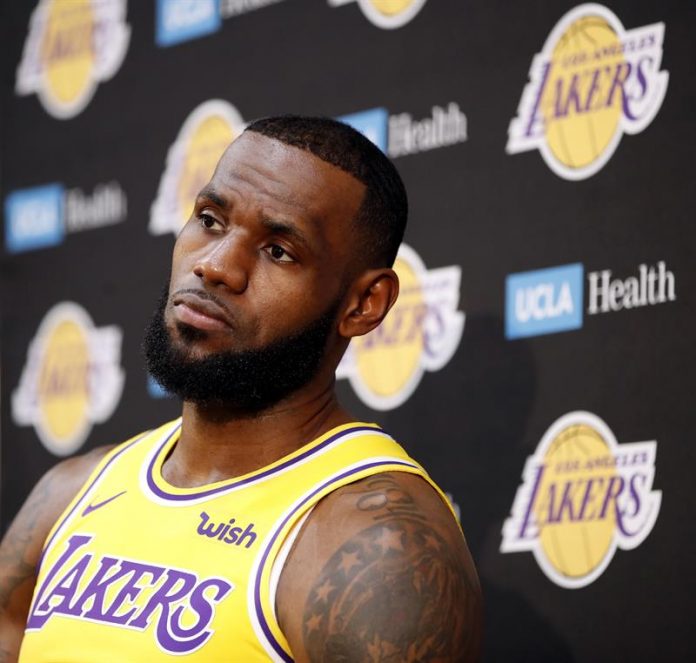 The second draw of the new training modality of the teams that will compete in the Match of the Stars, the first televised, will be He completed this Thursday and forward LeBron James, captain of the Western Conference team, had the right to start and chose forward Kevin Durant.

The new format allows the captains of both teams to select the player they want regardless of which conference they belong to.

Meanwhile, the Eastern Conference captain, the Greek power forward Giannis Antetokounmpo, of the Milwauee Bucks, also chose a player from the Golden State Warriors, the current league champions, the base Stephen Curry.

Then, alternately, both captains completed the rest of the 11 selections for each team, including the two considered legends, chosen by the commissioner of the NBA, Adam Silver, who will accompany them on the 17th of this month when they dispute the Match of the Stars in Charlotte.

The second selection of James, who left captain of the Western team by popular vote, of the players and journalists, besides being the one who received the most votes, was for his former teammate in the Cleveland Cavaliers, the base Kyrie Irving , now with the Boston Celtics.

While Antetokounmpo chose the Cameroonian pivot of the Philadelphia Sixers Joel Embiid to complete the starting lineup of the East with forward Paul George, of the Thunder of Oklahoma City, and the base Kemba Walker, of the Hornets of Charlotte.
James did it with forward Kawhi Leonard of the Toronto Raptors and guard James Harden of the Houston Rockets.

Then it was Antetokounmpo who first began the selection of the reserves and decided by his teammate the forward Khris Middleton, who will make his debut in a Match of the Stars.

They were followed in the selection for the Eastern reserves, the Serbian center Nikola Jokic (Denver), the Australian base Ben Simmons (Philadelphia), the power forward Blake Griffin (Detroit), the base D'Angelo Russell (Brooklyn), the pivot Swiss Montenegrin (Nikola Vucevic (Orlando), the base Kyle Lowry (Toronto) and the German forward Dirk Nowitzki (Dallas), as a legend.

James began his reserves selection with center Anthony Davis (New Orleans), followed by guard Klay Thompson (Golden State), baseman Damian Lillard (Portland), Russell Westbrook (Oklahoma City), center LaMarcus Aldridge (San Antonio) ), the center Karl-Anthony Towns (Minnesota), the guard Bradley Beal (Washington) and Dwyane Wade (Miami, legend).

But at the end of the draw, James transferred Westbrook to the East team in exchange for Simmons.

The complete order of the selections in the draw for the teams of the Party of the Stars was as follows:
Number Player name Team
---
.1 Kevin Durant Golden State-Warriors
.2 Stephen Curry Golden State-Warriors
.3 Kyrie Irving Boston-Celtics
.4 Joel Embiid Philadelphia-Sixers
.5 Kawhi Leonard Toronto-Raptors
.6 Paul George Oklahoma City-Thunder
.7 James Harden Houston-Rockets
.8 Kemba Walker Charlotte-Hornets
.9 Khris Middleton Milwaukee-Bucks
10 Anthony Davis New Orleans-Pelicans
11 Nikola Jokic Denver-Nuggets
12 Klay Thompson Golden State-Warriors
13 Ben Simmons Philadelphia-Sixers
14 Damian Lillard Portland-Trail Blazers
15 Blake Griffin Detroit-Pistons
16 Russell Westbrook Oklahoma City-Thunder
17 D'Angelo Russell Brooklyn-Nets
18 LaMarcus Aldridge San Antonio (Spurs)
19 Nikola Vucevic Orlando-Magic
20 Karl-Anthony Towns Minnesota-Timbewolves
21 Kyle Lowry Toronto-Raptors
22 Bradley Beal Washington-Wizards
23 Dwyane Wade Miami-Heat
24 Dirk Nowitzki Dallas-Mavericks.
(USA), (EFE) .-