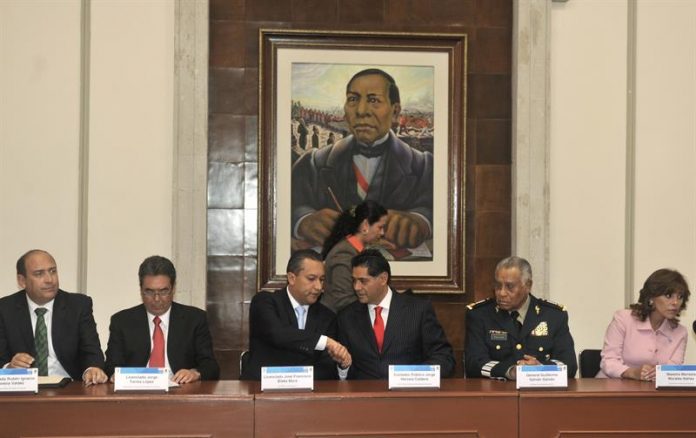 The ex-interim governor of the state of Coahuila, Jorge Torres López, will face in prison his extradition process to the United States for crimes of bank fraud and money laundering, informed the Mexican authorities on Wednesday.
Torres Lopez, detained on Tuesday in Puerto Vallarta, in the western state of Jalisco, entered this day at the men's prison south of Mexico City, according to a procedure by a district judge, they said.
The former governor of Coahuila from January to November 2011 is claimed by the United States Government for the crimes of money laundering and bank fraud, related to the opening of bank accounts in Texas to transfer funds to banks in Bermuda.
The judge in the case confirmed that Torres López notified that he had suffered a heart attack at the end of 2017, for which he requires medical treatment. He was asked to make a diagnosis, treatment and authorize the entry of his medication into prison.
The former interim governor of Coahuila, meets with surveillance and 24-hour monitoring of the camera, authorities said.
The charges in the United States against Torres López also involved the former Treasurer of Coahuila, Héctor Villarreal, who turned himself in to the authorities of that country and pleaded guilty to two charges of conspiracy to launder money and one to transport stolen money.
Torres López is the most recent case of a former Mexican governor arrested for various crimes in recent years in Mexico, where at least other holders of state governments have been accused and convicted.
Among these are Tomás Yarrington, governor of Tamaulipas (1999-2004) detained in Italy and extradited to the United States for 11 criminal charges such as money laundering, fraud and links to drug trafficking.
In addition, Eugenio Hernández, his successor in Tamaulipas (2005-2010), who is in prison subject to extradition for robbery to the treasury and criminal association for the laundering of money.
The most famous case is the one who was governor of Veracruz from 2010 to 2016, Javier Duarte, sentenced to nine years in prison after pleading guilty to money laundering and criminal association.
César Duarte, governor of Chihuahua (2010-2016) is a fugitive for embezzlement of public funds and corruption and Roberto Borge, governor of Quintana Roo (2011-2016) is in prison for the irregular sale of land to his family and damage to the treasury by some 168 million dollars.
The former Governor of Tabasco, Andrés Granier (2007 to 2012), sentenced to 11 years in prison for robbery to the treasury and Guillermo Padrés, governor of Sonora (2009-2015), on bail after the crimes of fiscal fraud and money laundering. EFEUSA