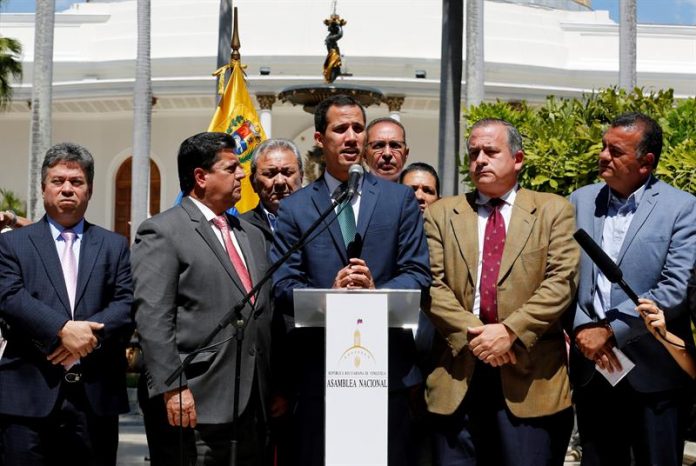 The Government today thanked several members of the European Union (EU) for the recognition of Juan Guaidó as interim president of Venezuela and invited other countries – members of the union or not – to do the same.
"We welcome the decision made today by Austria, the Czech Republic, Denmark, Germany, Estonia, Finland, France, Latvia, Lithuania, Luxembourg, the Netherlands, Poland, Portugal, Spain, Sweden and the United Kingdom to recognize Juan Guaidó as President interim of Venezuela, "said Secretary of State, Mike Pompeo, in a statement.
In the note, Pompeo affirmed, in addition, that the country "feels encouraged" by the European Parliament resolution of January 31 that officially considers Guaidó as the new president of Venezuela.
"They have joined together with the US and 23 other countries that have already recognized Guaidó according to the Venezuelan Constitution," said the head of the State Department.
In addition to inviting other countries, whether or not they belong to the EU, to do the same, Pompeo once again urged the Venezuelan military and security forces to "support the citizens of the country, Juan Guaidó and his family" , as well as to all foreigners who are in Venezuela.
Guaidó today added new support from the international community, after 19 EU countries recognized him as president in charge of Venezuela until the call for presidential elections.
These recognitions materialized hours after the expiration on Sunday of the eight-day ultimatum given by the EU -without a unitary opinion- so that the president of Venezuela, Nicolás Maduro, would call for free and democratic elections.
Maduro had already rejected the possibility of abandoning power or calling new presidential elections when he said: "I do not accept ultimatums from anyone."
For its part, the International Monetary Fund (IMF) stressed today that Venezuela will need "generous external support" to recover from "the devastating economic and humanitarian crisis", in a context of increasing international pressure after the self-proclamation of Guaidó, head of the National Assembly (AN, Parliament) the past day 23 as president "in charge".
The IMF has not yet recognized Guaidó as the legitimate president of Venezuela and has said it will follow "the international community" when it comes to defining recognition. (EFEUSA) .-