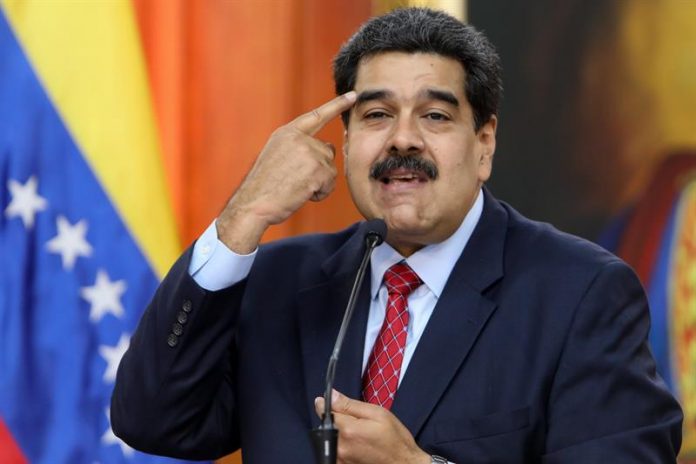 Washington (EFEUSA) .- The Government today rejected any effort that allows Venezuelan President Nicolás Maduro to remain in power, as well as a dialogue proposal promoted by the Governments of Mexico and Uruguay and the mediation of the Vatican.
"We explicitly reject any conversation about any kind of effort that allows Nicolás Maduro to usurp power, stay in power or be a political player," a US official told reporters on condition of anonymity.
The spokesman was in favor of finding, after a transition scenario, a destination for Maduro and supported any type of conversation in this regard.
But he clarified that the Executive of President Donald Trump "explicitly" rejected the talks recently held with Uruguay, Mexico or the Vatican, serving as mediators for a dialogue between Maduro and the opposition deputy Juan Guaidó, who on January 23 was proclaimed interim president of Venezuela.
USA He has recognized Guaidó as interim president of the Caribbean country and has led a diplomatic strategy accompanied by measures against state oil company Petróleos de Venezuela (PDVSA) to pressure Maduro to leave power.
"Nicolás Maduro is not the president of Venezuela," said the official, who insisted that the road to democracy is a peaceful transition.
Mexico and Uruguay will take tomorrow to the Secretary General of the UN, António Guterres, his proposal of dialogue for the situation in Venezuela, as they advanced this Thursday to Efe diplomatic sources.
The Mexican ambassador to the United Nations, Juan José Gómez Camacho, and the Uruguayan, Elbio Rosselli, will meet with Guterres to discuss the initiative of their two governments, which want to promote a negotiated solution to the Venezuelan crisis.
Mexico and Uruguay announced on Wednesday the convocation for February 7 of an international conference in Montevideo to discuss a diplomatic solution to the situation in Venezuela.
The initiative, according to the two countries, responds precisely to the calls made by the UN in favor of a dialogue between the Venezuelan government and the opposition, after Guaidó proclaimed himself interim president.
At least thirty countries, including Argentina, Brazil, Paraguay, USA or Australia, they have recognized Guaidó as interim president, while Bolivia, Cuba, Russia or China have shown their support for Maduro.
Guterres has offered his "good offices" to mediate between the two sides and, in the meantime, continues to work with the Maduro government on humanitarian and development issues.