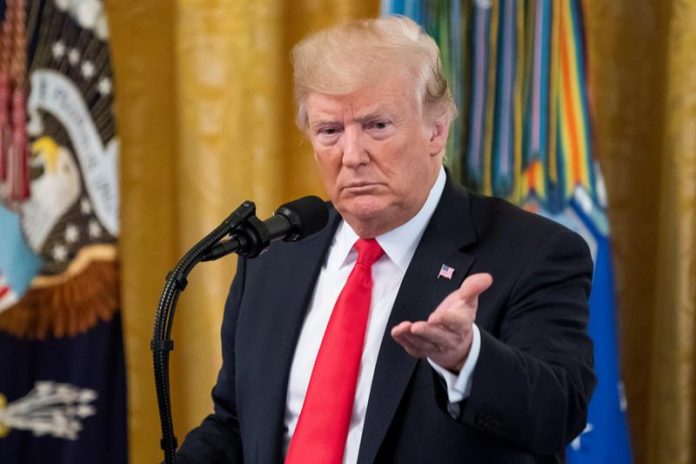 President Donald Trump instructed his personal ex-lawyer, Michael Cohen, to lie to Congress about the project of the president to place a Trump Tower in Moscow, the news portal BuzzFeed reported today, a revelation that alarmed several Democratic lawmakers.
Cohen was sentenced last December to three years in prison for a series of charges including matters related to the investigation into the Russian plot led by special prosecutor Robert Mueller, such as lying to Congress about the Trump Tower project in Moscow .
According to two American officials "implicated in an investigation" related to Cohen and who spoke with BuzzFeed, Trump's ex-lawyer told the Mueller team that, after the 2016 elections, the now president asked him to lie and said that the Negotiations with Russia had ended months earlier.
According to these sources, Trump also supported a plan designed by Cohen to visit Russia during the tycoon's presidential campaign, in order to meet with the Russian president, Vladimir Putin, and boost negotiations on the real estate project.
"Make it happen," Trump told Cohen, according to sources.
The ex-president of the US president was in charge of the real estate project in Moscow and regularly reported on it to Trump and his sons Ivanka and Donald Jr., says the media.
Mueller's team concluded that Trump had instructed Cohen to lie to Congress after interviewing witnesses of the Trump Organization and review emails and other documents of the company, and that was when the accused recognized that the now president had asked him to be absent. Truthfully, adds BuzzFeed.
Cohen plans to testify next February 7 before the Oversight Committee of the US House of Representatives regarding the Russian plot.
The information generated angry reactions between the Democratic opposition and the chairman of the Intelligence Committee of the lower house, the progressive Adam Schiff, said he would investigate the issue.
"The accusation that the US president could have forced perjury before our committee in order to curtail the investigation and cover up his business with Russia is one of the most serious that has been done so far," Schiff said in his account. Twitter
Democratic congressman Joaquín Castro, who is also on the Intelligence Committee, went further and stated in a tweet that "if the BuzzFeed article is true, President Trump must resign or be subjected to a political trial." (EFEUSA) .-