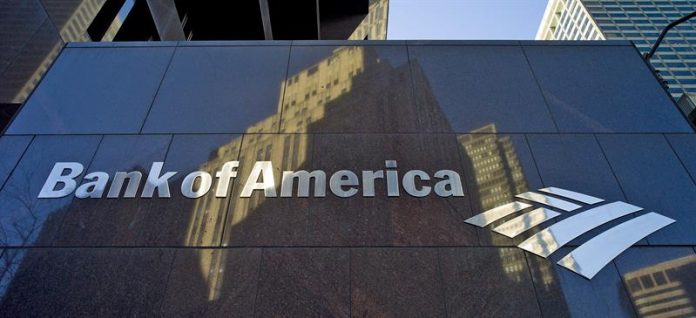 The financial group Bank of America increased its net profit by 54% in 2018, to 28,147 million dollars, driven by a last quarter of record and the effect of the fiscal reform of the previous year.
The second US bank by capitalization today reported that its annual profit per share was $ 2.61, above the $ 1.56 it earned in 2017, when it earned $ 18,232 million.
The turnover for the year, meanwhile, amounted to 91,247 million, 4% more than the 87,352 million that entered the previous year.
Regarding the results of the fourth quarter, the most followed by Wall Street, Bank of America exceeded the expectations of analysts to triple their net profit thanks to consumer banking and lower taxes.
Net profit between October and December was 7,278 million ($ 0.70 per share), 208% higher than the same period of 2017, in which it obtained 2,365 million ($ 0.20 per share).
In the statement that gives an account of the results, the firm attributes these strong profits to its operating leverage and the quality of its assets, as well as to the effects of the fiscal reform of 2017, without which the increase in adjusted profits is 39% .

Quarterly revenues increased by 11% in that segment, to 22,736 million, due in part to the interest margin, "which reflected the benefit of higher interest rates and also the growth in loans and deposits."

Bank of America, which is headquartered in Charlotte, North Carolina, posted a year-on-year increase of 52% in its consumer banking business, whose profits in the fourth quarter were $ 3.3 billion.
The CEO and president of the entity, Brian Moynihan, stressed that the firm has returned 26,000 million in capital to its shareholders, has dedicated 200 million to philanthropy and has taken advantage of "a second bonus since the tax reform was approved in the year previous".
The results were better than expected by analysts except in the area of ​​global markets, where the fixed income business entered 15% less, 1,400 million dollars, due to the "weakness in the credit and mortgage markets".
Bank of America published its accounts early in the morning and its shares revalued 4.67% in electronic transactions prior to the opening of the New York Stock Exchange. In the last year, however, it has devalued almost 15% in the market. (EFEUSA) .-