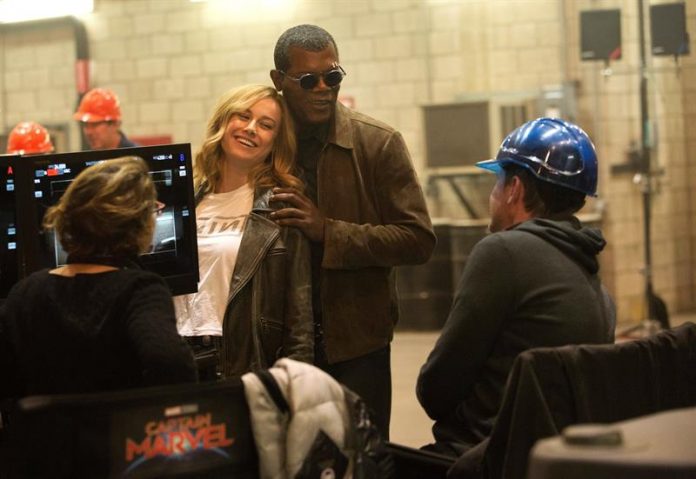 It's a cold May morning at the Sony studios in Los Angeles (California), and Samuel L. Jackson, the actor who turns everything he touches to gold, appears with spots on his face that will take him 30 years off "Captain Marvel ", a film that, he assures, will have the same impact as" Black Panther ".
"Captain Marvel", premiered on March 8, is the first Marvel studio movie starring a woman, the superheroine Brie Larson embodies.
"Marvel knows what he's doing, people think that 'Black Panther' was something out of the ordinary, it was just part of the company's strategy, only with black people, and now it continues with a powerful female character that will incite to people as much as 'Black Panther', I am very proud, "said the interpreter.
Jackson retakes his famous role as Nick Fury, although his physical appearance has had to be digitally retouched, since the action takes place in the 1990s. And although he knows that this resource can further extend his career, he is even more happy to contribute its presence to a title so relevant for women.
"I grew up surrounded by women who always made me feel special and educated me, I understand them well and I know what they feel because I've always heard them, and I experienced every day how difficult the world is for them," said the actor in a meeting with small group of media, including Efe, during a visit to the filming of the overproduction.
"I grew up only with black women because I grew up in the era of segregation, I knew their problems and their points of view, I did not talk to white women because I did not know them, as I grew up, I verified that they could also go through similar situations," she explained. .
Therefore, he reasoned, working with Oscar winner Brie Larson, an interpreter who does not hesitate to use their social networks to fight for women's rights, "it has been a real pleasure."
"She has a huge responsibility for the success of the Marvel Universe." After the "Wonder Woman" boom in DC, what this film is going to mean for women and girls is impressive, "Jackson said. who just turned 70 years old.
"Being able to be with Brie on this trip," he continued, "support her and give her what she needs, first in the search for the identity of her character and then when channeling her power, has been a real honor," he said.
Jackson knows what he's talking about. He is the most successful actor in Hollywood, as evidenced by the more than 13,300 million dollars that his films have collected (more than a hundred), many of them from the Marvel Universe films (nine of the highest grossing films of the past). decade).
His character Nick Fury has appeared on nine occasions so far, but this time the viewer will see a much younger, innocent and incredulous character, who, in addition to not yet having his famous patch in his left eye, will sweat ink to assimilate the presence of extraterrestrials on Earth.
The first appearance of Fury was in "Iron Man" (2008), although in a way everything pointed to Jackson was predestined for that role since Mark Millar modeled the character in the comic "The Ultimates" (2002) with his face.
"I'm still having fun," said the artist. "As a child I was stuttering and quite shy, but that disappeared as soon as I got on stage thanks to my aunt, who was a teacher in Chattanooga, I lived at home with her, so every time I prepared a play, I was there ", he recalled.
"The discovery of applause, congratulations, adulation … That made me see that I could dedicate myself to it, especially because it made me feel really good," said the actor, who has no intention of retiring.
"Coming to work is a pleasure, I do not mind getting up early, I also get up at 5 in the morning when I'm not working to go golf, acting allows me to forget who I am, what problems I have and what happens in the world It is a wonderful way to escape and helps me stay sane. "(EFEUSA) .-