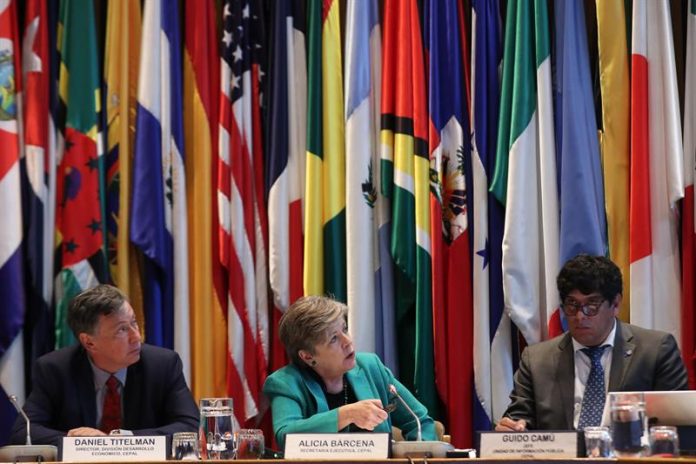 The economy of Latin America and the Caribbean will close 2018 with a growth of 1.2% in the context of a "complex global scenario", which promises greater and more diverse uncertainties in 2019, said the ECLAC today in its preliminary balance of the economy regional, presented in Santiago.

The figure is 2 percentage points below the 3.2% expected for the expansion of the world economy this year, in a context of low volume of increase in world trade, (3.9% in 2018 against a 4.6 % in 2017), subject to significant risks, "not only due to the evolution of world economic activity but also due to commercial tensions".

"Public policies are needed to strengthen the sources of growth and face the global uncertainty," said Cepal's executive secretary, Alicia Bárcena, during the presentation of the report.
For ECLAC, 2019 is seen as a period in which far from diminishing, "global economic uncertainties will be greater and coming from different fronts", which will affect the regional economies, "which on average will expand by 1.7% ".

In the next few years a reduction in the dynamics of growth is expected, both in developed countries and in emerging economies, accompanied by an increase in the volatility of international financial markets, warns the UN agency.

To this, "the structural weakening of international trade is added, aggravated by the commercial tensions between the United States and China," he stresses, adding that "the greatest risk for the region for 2019 continues to be an abrupt deterioration in financial conditions. for emerging economies. "

Already in 2018, emerging markets showed a significant reduction in external financing flows, increased levels of sovereign risk and depreciated their currencies against the dollar, the report indicates.

On this basis, it foresees that new episodes of deterioration in future financial conditions can not be ruled out, and that the consequences on countries will depend on how exposed they are in terms of their needs and external financing profiles.

For Alicia Bárcena, "it is necessary to strengthen the active role of the region's fiscal policy in terms of revenue and spending, and it is essential to reduce tax evasion and evasion and illicit financial flows."
In addition, "public debt profiles should be taken care of in the face of the uncertainty that could increase their cost and levels," he added.

In terms of figures, ECLAC noted that in 2018 growth weakened in both South America, from 0.8% in 2017 to 0.6% this year, as in Central America, Cuba and Haiti (3.4% to 3.2%).

In the Caribbean, the recovery after the natural disasters of 2017 contributed to an acceleration of growth, from 0.2% last year to 1.9% in 2018.

At the country level, the largest increases in GDP (Gross Domestic Product) this year correspond to the Dominican Republic (6.3%), Antigua and Barbuda (5.3%), Grenada (5.2%), Bolivia (4, 4%), Panama (4.2%), Paraguay (4.2%) and Chile (3.9%).

The weakest, meanwhile, are in Jamaica (1.5%), Haiti (1.4%), Brazil (1.3%), Cuba (1.1%), Ecuador (1.0%).

The biggest drops in growth correspond to Venezuela (-15.0%), Dominica (-4.4%) Nicaragua (-4.1%) and Argentina (-2.6%).
ECLAC pointed out that regional economic growth was led by domestic demand, with slight improvements in investment and exports.

For 2019, ECLAC projects growth dynamics with different intensities among countries and subregions, with 3.3% in Central America (excluding Mexico), 1.4% in South America and 2.1% in the Caribbean. .
By countries, growth would be led by the Dominican Republic (9.0%), the Dominican Republic (5.7%), Panama (5.6%), Antigua and Barbuda (4.7%) and Guyana (4.6%). %), while the largest economies in the region, Brazil and Mexico, would grow by 2.0% and 2.1%, respectively.

On the other side of the scale, Venezuela would contract 10.0%; Nicaragua 2.0% and Argentina 1.8%. (EFEUSA) .-